2018 Renovations Committee Reviews Districtwide Needs
Board Plans for October 2018 Vote
The district's 2018 Renovations Committee (comprised of community members, staff, parents, Board members, and students) have been charged by the Board of Education to study major construction, renovation and maintenance needs district-wide. The committee has been meeting twice a month since January 2018. In that time, committee members toured all five schools and the transportation building, and listened to presentations from the principals and department supervisors about specific building needs and concerns.
The committee has also been focused on examining all renovations needs and reviewing projected cost estimates from architects.
Throughout June, the committee will continue to work together to prioritize the different types of infrastructure projects, from those that would meet routine needs (energy conservation, roofing, and major repairs and upgrades to some of the oldest portions of the schools) to ways that classrooms could potentially be upgraded to better accommodate educational technology and 21st century teaching and learning.
The Board of Education anticipates puting the 2018 Renovations Referendum before district voters in October 2018. Doing this would allow BH-BL to continue the five-year planning and funding cycles the district has been doing since 1978 to keep school facilities up to date and in good working order.
Before the project is put to voters, the Renovations Committee is expected to make formal recommendations to the Board of Education in July. The district's website will be updated as more information becomes available.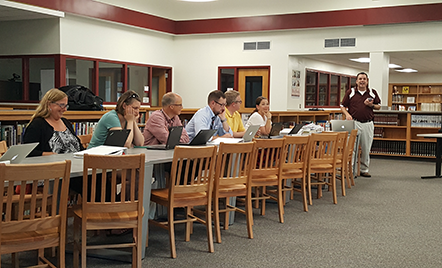 Meet the 2018 Renovations Committee
The 39-member committee was formed after an all-call notice seeking community and staff volunteers was posted on the website in early December and emailed through the district's School News Notifier (SNN) email system. Residents who were interested in volunteering were required to submit a letter of interest to the Superintendent explaining why they wanted to be on the committee. Members were chosen to represent a cross-section of the community.
Here are the volunteer committee members:
Christopher Abdoo, Assistant Superintendent for Support Services (Co-Chair)
Amy Aldrich, community member (Co-Chair)
Hailey Aldrich, Board member (ex-officio)
Kara Bennett, HS PTA Representative
John Blowers, Board member (ex-officio)
Jenn Bradt, Board member (ex-officio)
Kim Brunson, teacher
Tim Brunson, High School Principal (ex-officio)
Kristin Cartwright, teacher (ex-officio)
Ruth Cotter, community member
Dan Diggins, BH-BL Director of Facilities
Pete Giroux, Director of Fine Arts
Meghan Hinman, teacher (ex-officio)
James Ireland, Middle School PTA Representative (Co-Chair)
Paige Kenneally, High Student student
Patrick Kenneally, Pashley PTA Representative
Andy Lancaster, teacher
Mary Lawrence, Stevens PTA Representative
Chris Lombardi, teacher
Jennifer Longtin, Board member (ex-officio)
Nancy Lussier, community member
Don Marshall, Board member (ex-officio)
James Maughan, Board member (ex-officio)
Billie McClosky, High School student
Paul McCullough, CSEA member
Patrick McGrath, Superintendent
Aimee Miller, teacher (ex-officio)
Lisa Morse, community member
Mike Nally, CSEA member
Jeff Reynolds, teacher
Matt Sargen, Supervisor of Custodians (ex-officio)
Peter Sawyer, Board member (ex-officio)
Maryellen Symer, Assistant Superintendent for Curriculum & Instruction
JT Teeling, CSEA member
Brad Thomas, teacher (ex-officio)
Fred Veronezi, community member
Heather Walker, teacher
Colleen Wolff, MS Principal
Patrick Ziegler, Board member (ex-officio)