BH-BL and nearly a dozen other Capital Region school districts will gather with state legislators at Columbia High School in East Greenbush for a Forum on Sustainability of Schools on Thursday, January 30 from 7-8:30 p.m. in the school's auditorium.
The event was developed to start a conversation with New York state legislators concerning the decline in state aid to local school districts and the long-term impact this could have on students and the education they are provided.
Each of the school districts participating in this event have received the minimum in Foundation Aid from the state in recent years. (Foundation Aid is one of the two major sources of revenue for school districts. The other source is local property taxes.)
For example, BH-BL received an overall state foundation aid increase of $101,044 in Foundation Aid for the current school year, an increase of just 0.0075%, which is less than the rate of inflation.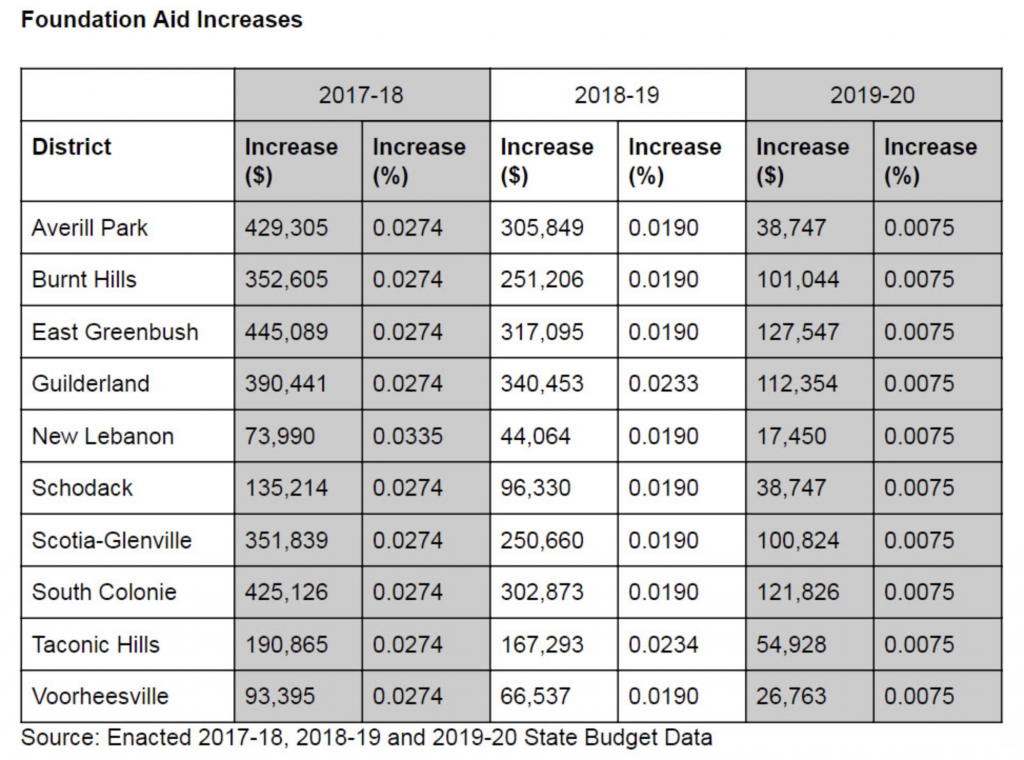 Meanwhile, basic mandated needs continue to grow such as English as a New Language, mental health and special education. Those increasing services require more teachers, more support staff and new programs, which all add to district costs.
The legislative budget process decides the amount of Foundation Aid for each school district. In the era of the Tax Cap, when the legislature decides that the growth of Foundation Aid will be below the rate of inflation, school districts cannot raise local taxes to compensate and keep pace with inflation. There is no choice but to make reductions in expenditures, which means cuts to teachers and staff, academic electives, and extracurricular programs.
Legislators who have committed to attending the event so far include: Senator Neil Breslin (44th District) and Assemblymen McDonald, Ashby, and Steck.
Audience members will be able to ask questions of their state representatives during a Q&A. The event program will also include brief presentations on topics such as basic school finance, increasing needs for students, and the challenges created due to current state aid amounts.
Students, parents, teachers, and staff from each of these school districts are invited to attend this public event.
Forum on Sustainability of Schools
WHAT: A conversation with New York State legislators concerning the decline in state aid to local school districts and the long-term impact this could have on our students.
WHEN: Thursday, January 30 at 7:00-8:30 p.m.
WHERE: Columbia High School Auditorium, 962 Luther Rd., East Greenbush, N.Y., 12061