High school STEAM addition Grand Opening Ceremony, Sept. 6
All are welcome to join us for the ribbon-cutting ceremony & tour of the new facility, 6:30 p.m.
It was nearly a year ago when school leaders, the board of education, and renovations committee members came together to break ground on t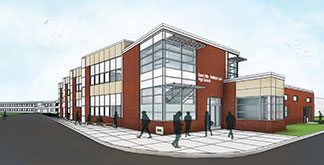 he high school's new Science, Technology, Engineering, Arts, and Math (STEAM) addition. And today, we are nearing the final phase of the 2013 voter-approved referendum and will open the new wing for the start of the 2017-18 school year.
Please join the BH-BL Board of Education and school leaders on Wednesday, Sept. 6 at 6:30 p.m. for the ribbon-cutting ceremony and tour of the new state-of-the-art STEAM addition at BH-BL High School, 88 Lakehill Road, Burnt Hills.
The STEAM addition will bring the school facilities to a whole new level by adding modern classrooms and laboratories for hands-on work in such areas as advanced manufacturing, industrial engineering, robotics, electronics, computer science, graphic design, applied math, 2-D and 3-D art, computer-aided design, and digital music. The state-of-the- art STEAM addition elevates BH-BL to an even playing field by introducing students to the technology and work environments they will see in college labs and modern workplaces.
Other high school projects
Other projects in the high school that will be renovated this summer and ready in the 2017-18 school year include renovating the existing Blue and Red Rooms into a black box theatre and a modern-day presentation center, respectively. The new presentation center will include Smart technology, projectors, and wireless technology that allows for live streaming of presentations such as board meetings and forums as well as classroom presentations.
The library will also be restructured and modernized to include a Learning Commons, which is a full-service learning, research, and project space. The modern space will accommodate students when they need a meeting place to work on collaborative projects with their peers. The new media center will also have study areas where students can easily rearrange furniture to accommodate impromptu planning sessions or secure a quiet place to work.
The current English wing (one of the original sections of the school when it was built in 1955) will be renovated and become the district office. The superintendent, assistant superintendent for curriculum and instruction, and assistant superintendent for support services will be located in the district office. The special services, business, and human resources departments will also move to the district office. These departments are currently located at various locations throughout the district. The English classes currently housed in that wing will move to where the existing math classrooms are housed, and the math classes will be relocated to the STEAM addition. The district office is expected to be ready for occupancy in the fall of 2017.
Final phase
While the high school is being renovated, construction crews will simultaneously begin the final phase of the renovations project, which includes work at the middle school and Stevens Elementary School. At both schools, classrooms will receive 21st-century upgrades and infrastructure improvements, which include the addition of Smart technology (i.e., flat panel monitors, projectors, cameras, speakers), improved lighting and ventilation systems, and new furniture that's more suitable for a modern learning environment and can easily be adjusted to accommodate class assignments. For example, teachers, who shift between collaborative and individual work, might need to create a lab-style space where desktops are raised so students can stand behind them to work.
At O'Rourke Middle School, science laboratories will be renovated and modernized. The new labs will better reflect work space that is conducive to lab assignments and projects that students are required to complete as part of today's science curricula.