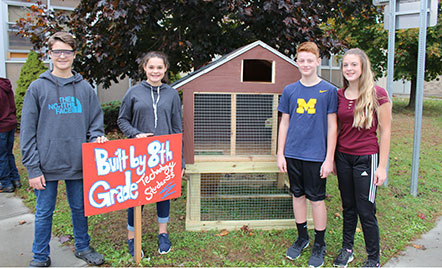 Classroom group project and charity efforts bring students together
Students learn lifelong skills in Morocco's courses
If you were at the middle school at all this fall you might have been wondering if the students had set up a small farm. Well, no, they didn't. But thanks to technology teacher Nick Morocco's Grade 8 Technological Systems students, the lawn outside of his classroom did look like a farm. That's because it's where students built several chicken coops, a duck hutch, and bunny hutch.
In Morocco's class, students use Engineering by Design software that requires them to dig deeper into the engineering, designing, and manufacturing process of a project. To make the course even more relevant, he has the students work in groups on a whole-class project. The students are placed in different groups based on the system (floor, wall, or roof system) they were assigned. This is done to simulate a real-life work environment.
"That is how the real world works," explains Morocco. "So it's advantageous for students to learn how to work with others, problem solve as a group, and rely on each other to produce a quality product."
The students were designing, sketching, and working with tools since the beginning of the school year in preparation for a project that not only teaches them architectural design and engineering skills, but also about humanity and charitable works. Proceeds from the sale of the coops and hutches will be donated to local animal rescue groups such as the Animal Protection Foundation, 11th Hour, Peppertree Rescue, and Homeward Bound.
After learning about the projects the students' first step was to research coops and hutch designs to get ideas for their own plans. They then used their engineering design journals to sketch blueprints and draft step-by-step instructions for everyone to follow. They also worked together as a team to select a design that met the criteria and constraints outlined by Morocco.
The students had to rely on their knowledge of manufacturing resources to determine what materials would be needed to build each part of the coop or hutch, as well as calculate how much of each material they would need. Once the design phase was complete and approved, students began cutting and assembling the necessary materials based on their plans.
While Morocco is available to help students with their projects at every turn, it is a hands-on course and he wants his students to get a real sense of the type of education needed for engineering, designing, and manufacturing jobs. The course encourages students to apply skills from all subject areas–math, reading, writing, science, and communications–to better understand the project.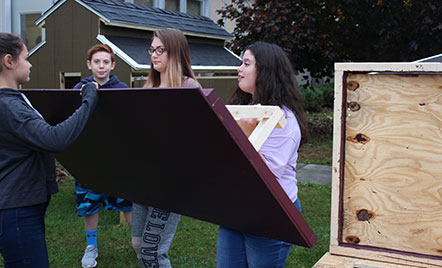 Morocco explains that because of nation's current shortage of people who have the skills to fill jobs in the trade fields, such as computer technology, high-skilled manufacturing, construction, etc. it's important for students to be exposed to skills trade education during their school years. Recent statistics show that for every one person entering the skilled labor force five more are retiring. In fact, fewer and fewer American students are choosing to pursue a career in the skilled labor fields. But as Mike Rowe, the host of the former television show "Dirty Jobs" points out, there is not a shortage of apprenticeship and internship opportunities available to students because the need for skilled laborers has skyrocketed.
"My hope is that this course helps kids realize the vast possibilities that are out there for them. There will be students in my class who are interested in and excel in the construction and manufacturing portions of the class projects, while other students will enjoy honing their design and planning skills," adds Morocco. "And still there will be others who discover that coordinating and organizing skills are a fit for them. These reasons and many more, are why I strongly believe it's so important that students receive as much experience and exposure to different subjects, projects, ideas, and thoughts as they can. I want kids to learn early on that there's something out there for everyone."