Building a stronger parent-to-school connection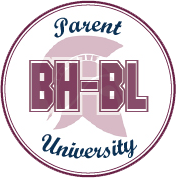 BH-BL Parent University is a community collaboration aimed at helping parents become full partners in their children's education.
BH-BL partners with community agencies and organizations to offer free, informative workshops featuring experts in childhood development to equip families with new or additional skills, knowledge, resources and confidence. The goal of Parent University is to increase parent involvement in the schools and empower parents to raise children who are successful in school, and in life.
Parent University covers a broad range of wellness-focused topics, from methods to support a child's physical and mental well-being to tackling a teen's challenging behaviors.
The workshops are facilitated by community professionals, district staff, parents and students. They are presented in many formats including book studies, forums, guest presentations and educational film discussions. No registration is required for programs unless otherwise specified.
Why should I get involved?
Research has shown that parents can increase a child's academic success through their involvement with schools and communities. Parental involvement improves student morale, attitudes, and academic achievement across all subject areas. Even if you are not a parent, we encourage you to become involved within Parent University.  No matter what role you play in the school community, Parent University encourages involvement and participation in the education of our community's students.
2021-22 School Year Events
This year the district has partnered with Building Better Futures founder Dr. Jennifer Bashant to bring families one-hour, monthly webinars focused around parents as partners.
To register for the webinars listed below, please email kristen@buildingbetterfuturesllc.com to ask for the zoom link and password. Even if you are unable to attend live, you should still register and request a password so that you automatically receive the link to the recording after the live webinar. You will have access to the recordings through June 2022.
**Please note: If you register for one webinar, you are actually registered for all of them so you don't need to register for each one. You will receive the links and passcodes for all the webinars from Kristen Pidgeon after you register.
Save the Dates: Upcoming Webinars through Building Better Futures
Thursday, May 19

 

from 7-8 pm:

 Boost Your Child's EQ: The Role of Emotional Intelligence in Social Relationships
---
Archived Webinars