Building a stronger parent-to-school connection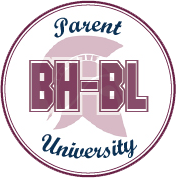 BH-BL Parent University is a community collaboration aimed at helping parents become full partners in their children's education.
BH-BL partners with community agencies and organizations to offer free, informative workshops featuring experts in childhood development to equip families with new or additional skills, knowledge, resources and confidence. The goal of Parent University is to increase parent involvement in the schools and empower parents to raise children who are successful in school, and in life.
Parent University covers a broad range of wellness-focused topics, from methods to support a child's physical and mental well-being to tackling a teen's challenging behaviors.
The workshops are facilitated by community professionals, district staff, parents and students. They are presented in many formats including book studies, forums, guest presentations and educational film discussions. No registration is required for programs unless otherwise specified.
Why should I get involved?
Research has shown that parents can increase a child's academic success through their involvement with schools and communities. Parental involvement improves student morale, attitudes, and academic achievement across all subject areas. Even if you are not a parent, we encourage you to become involved within Parent University.  No matter what role you play in the school community, Parent University encourages involvement and participation in the education of our community's students.
---
2022-23 School Year Events
BH-BL has once again partnered with Building Better Futures founder Dr. Jennifer Bashant to bring families FREE, one-hour webinars focused around parents as partners. To attend one or all webinars, register online (see below). Even if parents/guardians/families are unable to attend the webinars on the scheduled dates, registering gives access to the recording of the webinar. Recordings are available until June 30, 2023. All webinars are from 6:30-7:30 p.m.
Tuesday, Nov. 1, 2022: Depression and Suicide: What to Look For, What to Do, and When to Seek Help
The teenage years are defined by changes, sometimes dramatic changes, in behavior. These are often difficult years for families, even when mental health challenges are not present. So, how do you know what are considered normal changes, and when the changes in mood, isolating behavior and loss of interest in certain activities is clinical depression? This is not an easy question to answer, but we will tackle it during this webinar. We will look at the symptoms of depression and warning signs for suicide, and you will learn ways that you can support your child and get them professional help if needed. It can be overwhelming and difficult to find a therapist who is also accepting new patients, so we will look at tips for finding a therapist who will be a good fit for your child. [REGISTER TO WATCH THE RECORDING]
Monday, Nov. 28, 2022: Social Media Overload & the Epidemic of Loneliness
One of the biggest challenges of parenting today is moderating our kids' use of technology. It can be a daily struggle over how much time is spent on phones, computers and video games. The explosion of social media and the overload of information is creating a sense of loneliness and negatively affecting our children's mental health. As parents and caregivers, we know too much technology is detrimental, but how much is too much, and what can we do to protect our children from the harmful effects? [REGISTER TODAY]
Tuesday, Dec. 6, 2022: Collaborate Rather Than Dominate: A Process for Solving Difficult Problems
We all face challenging behavior and problems we must address with our children as they grow and move through the stages of development. Quite often, when challenging behavior occurs, our first instinct is to tighten the reins and seek to gain control over the situation. This approach, which can include yelling, threats and punishments, may provide a quick fix to the issue, but it rarely resolves the problem. During this webinar, you will learn how collaboration can be a powerful tool to overcome defiance and reduce the fighting and behavioral challenges in your household. You will learn how to identify and address the root cause, while allowing your positive relationship to serve as the foundation for change. [REGISTER TODAY]
Tuesday, January 17, 2023: Help Your Child Learn to Manage Strong Emotions
Being able to recognize the physical warning signs and knowing how to regulate the body in order to manage strong emotions such as anger, guilt, sadness and even elation, are skills that must be developed and practiced. For some children, this is more challenging and emotion regulation strategies must be explicitly taught. During this webinar, you will learn how to use mindfulness, art, soothing music and physical activity to help your child develop a toolbox of strategies that work. [REGISTER TODAY]
Tuesday, January 31, 2023: Ways to Motivate and Engage Your Child
Most of us were raised with behavioral reinforcement systems, such as earning TV time for getting chores done and a little extra money for good grades on report cards. For some kids, systems like this work well enough, but for kids with challenging behavior, behavioral systems often make things worse! During this webinar, you will learn about the three ways to develop intrinsic motivation, or being self-motivated, and how to create conditions at home that encourage your child to be more engaged, interested and motivated to act… simply because it feels rewarding to them when they do so. [REGISTER TODAY]
Tuesday, February 28, 2023: Building Executive Function Skills and Managing ADHD at Home
During this webinar, you will learn research-based practices for managing ADHD at home and helping your child learn the life skills they need. Strategies for reducing impulsivity, improving organization, forming positive social connections and improving focus and concentration will all be discussed. In order to use all of these skills, your child must be calm and regulated, so we will also talk about ways to promote self-regulation, including making sure that your child has the language they need to label and talk about what they are feeling. [REGISTER TODAY]
Tuesday, March 21, 2023: Understanding the Impact of Childhood Trauma and What You Can Do at Home
Caregivers often feel powerless in the face of trauma, yet we play a critical role in empowering our children as they cope with and heal from any trauma they have experienced. Explaining the ways in which trauma dysregulates the body is an important first step. During this webinar, you will learn how to teach your child or teen simple strategies to strengthen coping skills, such as mindfulness exercises, while also determining when and how to seek high-quality, trauma-focused therapies and other mental health resources. [REGISTER TODAY]