Career Resources
School counselors help BH-BL students explore careers through a variety of resources from classroom presentations, individual meetings, and course selection process.  4 Skills & 4 Steps to a Successful Career
Grade 9 – BH-BL Survival Guide: How to Survive & Thrive in 9th Grade
Counselors meet with students for a classroom presentation about how to survive and thrive in ninth grade. Counselors will discuss three main areas of focus: Academic, Career, and Social Development.  Students will use Naviance to take a Self-Discovery assessment, discuss academic skills, test their knowledge of graduation requirements, and explore careers!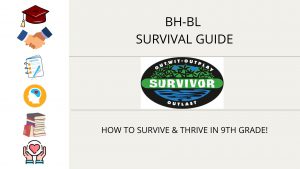 Grade 10 – The Real World Burnt Hills
School counselors present The Real World – Burnt Hills program in a classroom setting. Students will complete a Career Interest Inventory on Naviance. They will select a career cluster from the inventory results and be assigned a career and salary in their area of interest. Students will get to pick where they want to live, what kind of car they want to drive, pay bills, and experience what it's like to live in the real world!
Grade 11 – Junior Meetings
Counselors will conduct individual conferences to discuss senior course selections, graduation requirements, career interests, activities, and plans for after high school. Parents are encouraged to contact their child's counselor if they would like to attend this meeting.  Counselors will also meet with 11th graders in classrooms to present College & Career Resources to help students develop a plan for after high school which may include college, military, or workforce.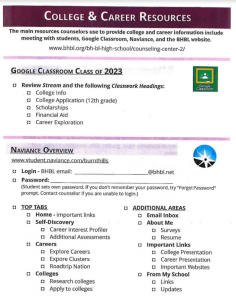 Post High School Planning
There are multiple pathways to take after high school. Some students attend college while others are excited to join the workforce. There are many jobs, with great pay and benefits, that don't require a four year college degree.
Please visit the College Resource page for college specific information.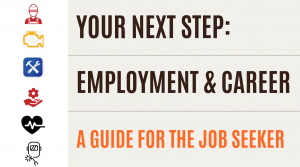 Your Next Step: Employment & Career Presentation
Career & Technical Education
Career and Technical Education (CTE) is a vocational program designed to provide students with training and certification in a specific area such as welding, cosmetology, or electrical trades. BH-BL students in grades  11 and 12 have the option of attending a CTE program while still in high school.  CTE centers like Capital Region BOCES also offer adult education programs like Licensed Practical Nursing (LPN), Sterile Processing Technician, Building Trades, Front End Web Development, Forklift Operator, Telecommunications & Network Cabling.  See your counselor for more information.
Apprenticeships
Apprenticeship programs allow you to earn money while you train for a skilled trade and prepare for a career. Apprentices train under the guidance of experienced journey workers and also attend related classroom trainings. The length of training varies from one to six years, depending on the occupation. There are hundreds of apprenticeship trades in NYS.
Military
The military provides service members specific training for jobs related to their military service. This training can also serve as the foundation for a civilian career.  Service members have the resources and skills to transition into life after the military.
Community College
Community colleges offer one year certificate programs that prepare students to enter the workforce after completion. Programs include areas such as Chemical Dependency Counseling, Computer Repair & Networking, Early Childhood, Hospitality & Tourism, Medical Coding & Billing, and Teaching Assistant.
Students can also consider pursuing an Associate in Applied Science (A.A.S.) or an Associate in Occupational Studies (A.O.S.) degree. These degrees are career-oriented and prepare students for employment immediately after completion. Degree programs include areas such as Accounting, Air Traffic Control, Biological Technician, Computer Networking Systems & Cybersecurity, Hotel & Restaurant Management, and Paralegal.
Career Search Websites