About the High School Counseling Center
The BH-BL High School Counseling Center provides a comprehensive school counseling program and a holistic approach to working with high school students. As vital members of the educational team, school counselors help students in areas of academic achievement, career exploration and social emotional development. The counselors provide individual academic planning and goal setting; post secondary exploration including higher education, military or entrance to the workforce; and collaboration with families, teachers, administrators, and community members to promote student success.
Counselors are student advocates, resources of information, and a supportive presences in the school environment. The goal of the school counseling team is to contribute to the academic, social, and career development of students as they transition from teenagers to well-rounded, productive adults. Read more about the role of the high school counselor.
---
News
2023-2024 Course Selection Process
School Counselors will be meeting with students in grades 9-11 during February and March to begin the course selection process. Counselors will review academic progress, graduation requirements, consider career ideas, explore areas of interests, and develop an appropriate course of study with each student. Teacher course recommendations for students will also be reviewed. Course requests will be available on eSchool Parent Portal for families to review and time will be alloted to make any adjustments. Final course requests will be mailed home with the final report card in June. Please contact your child's school counselor with any questions.  Curriculum Guide
Winter Wellness Newsletter – view here
---
2022-2023 High School Counseling Center Events
Mon, Jan 30 – Second Semester Begins
Tues, Feb 3 – Quarter 2 Report Cards Distributed
Fri, March 3 – 25 Week Intertim Report on eSchool Parent Portal
Sat, March 11 – SAT Exam at BHBL High School Register Here by Feb 10
Wed, March 22 – College Information Night at BHBL High School STEAM Wing
Tues, Apr 4 – Quarter 3 Report Cards Distributed
Sat, May 6 – SAT Exam NOT at BHBL Register Here by April 7
May 1 – May 12 – Advanced Placement Exams  Dates Here
Sat, June 3 – SAT Exam at BHBL High School Register Here by May 4
June 14-22 – Regents Exams
Thurs, June 22 – Class of 2023 High School Graduation
Mon, June 26 – Final Report Cards Mailed Home
June 26-27 – Summer School Registration
Wed, July 5 – First Day of Summer School
---
Social-Emotional Learning (SEL)
Why SEL?
According to the Collaborative for Academic, Social and Emotional Learning (CASEL), the world's leading organization promoting integrated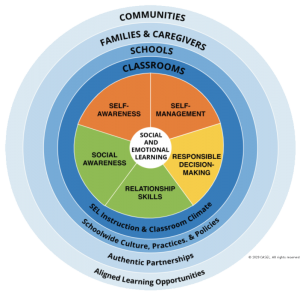 academic, social and emotional learning for all children in schools, social and emotional learning (SEL) is the process through which all young people and adults acquire and apply the knowledge, skills, and attitudes related to 5 key areas:
Self Awareness: Developing healthy identities,
Self Management: Managing emotions and achieve personal and collective goals,
Social Awareness: Feeling and show empathy for others,
Relationship Skills: Establishing and maintaining supportive relationships,
Responsible Decision Making: Making responsible and caring decisions.
Why is SEL so important?
SEL helps children by promoting their health and well-being and contributing to the prevention of violence, truancy, bullying, and drug and alcohol abuse. In addition, SEL is associated with significant gains on academic achievement tests as well as decreased anxiety and behavior problems. According to CASEL, SEL is most beneficial when it is integrated throughout the school culture and includes collaboration with families and caregivers.