About the High School Counseling Center
The BH-BL High School Counseling Center provides a comprehensive school counseling program and a holistic approach to working with high school students. As vital members of the educational team, school counselors help students in areas of academic achievement, career exploration and social emotional development. The counselors provide individual academic planning and goal setting; post secondary exploration including higher education, military or entrance to the workforce; and collaboration with families, teachers, administrators, and community members to promote student success.
Counselors are student advocates, resources of information, and a supportive presences in the school environment. The goal of the school counseling team is to contribute to the academic, social, and career development of students as they transition from teenagers to well-rounded, productive adults. Read more about the role of the high school counselor.
---
News
MAY IS MENTAL HEALTH AWARENESS MONTH
For 2022's Mental Health Awareness Month, the National Alliance on Mental Illness (NAMI) will amplify the message of "Together for Mental Health," and focus on advocacy and awareness.
SENIOR DESTINATION SURVEY – DUE MAY 1, 2022
Seniors must complete this important survey (available on the Counseling Center Class of 2022 google classroom) so the Counseling Center can do the following:

Send your final high school transcript to the college you will be attending

Send final high school transcript to NCAA (if applicable)
Update Naviance on college decisions
Update plans for after high school
All final high school transcripts will be sent by the second week of July, 2022.
If you have questions about sending AP scores, College in high school (CHS) or University in High School (UHS) transcripts please visit TRANSCRIPTS
If your plans change after you complete this survey, please contact the Counseling Center.
---
SPRING 2022 NEWSLETTER
---
CASDA & CDCA SPRING REGIONAL COLLEGE FAIR
SUNY COLLEGE FAIR
University at Albany
Wednesday, April 27
5:30 PM &  7:00 PM
Register HERE
You and your family are invited to join SUNY representatives for an in-person College Fair designed to provide information and answer your questions about the college search process and all that is available to undergraduates at The State University of New York.
---
2021-2022 High School Counseling Center Events
All events at the high school will be listed here and updated as necessary.
Sunday, May 1 – Senior Destination Survey deadline. See Counseling Center Class of 2022 google classroom to complete
Saturday, June 4 – SAT exam, 7:45 am
---
Social-Emotional Learning (SEL)
Why SEL?
According to the Collaborative for Academic, Social and Emotional Learning (CASEL), the world's leading organization promoting integrated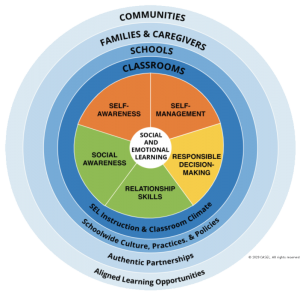 academic, social and emotional learning for all children in schools, social and emotional learning (SEL) is the process through which all young people and adults acquire and apply the knowledge, skills, and attitudes related to 5 key areas:
Self Awareness: Developing healthy identities,
Self Management: Managing emotions and achieve personal and collective goals,
Social Awareness: Feeling and show empathy for others,
Relationship Skills: Establishing and maintaining supportive relationships,
Responsible Decision Making: Making responsible and caring decisions.
Why is SEL so important?
SEL helps children by promoting their health and well-being and contributing to the prevention of violence, truancy, bullying, and drug and alcohol abuse. In addition, SEL is associated with significant gains on academic achievement tests as well as decreased anxiety and behavior problems. According to CASEL, SEL is most beneficial when it is integrated throughout the school culture and includes collaboration with families and caregivers.