Congratulations to Carsyn Bonesteel, a HS Science Research student in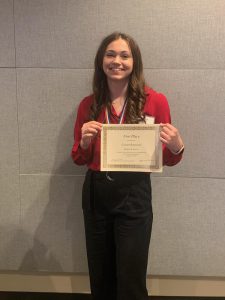 Regina Real's class, for taking first place in the Medical Sciences session at the recent Sub-Regional Eastern Junior Science & Humanities Symposium held at BH-BL High School.
Bonesteel now advances to present her winning work–A Multifaceted Approach to Determine the Therapeutic Efficacy of Ventral Pallidum Deep Brain Stimulation for Epilepsy–at the state level in the Upstate Junior Science and Humanities Symposium, March 8-9 at the University at Albany.
Good luck, Carsyn!