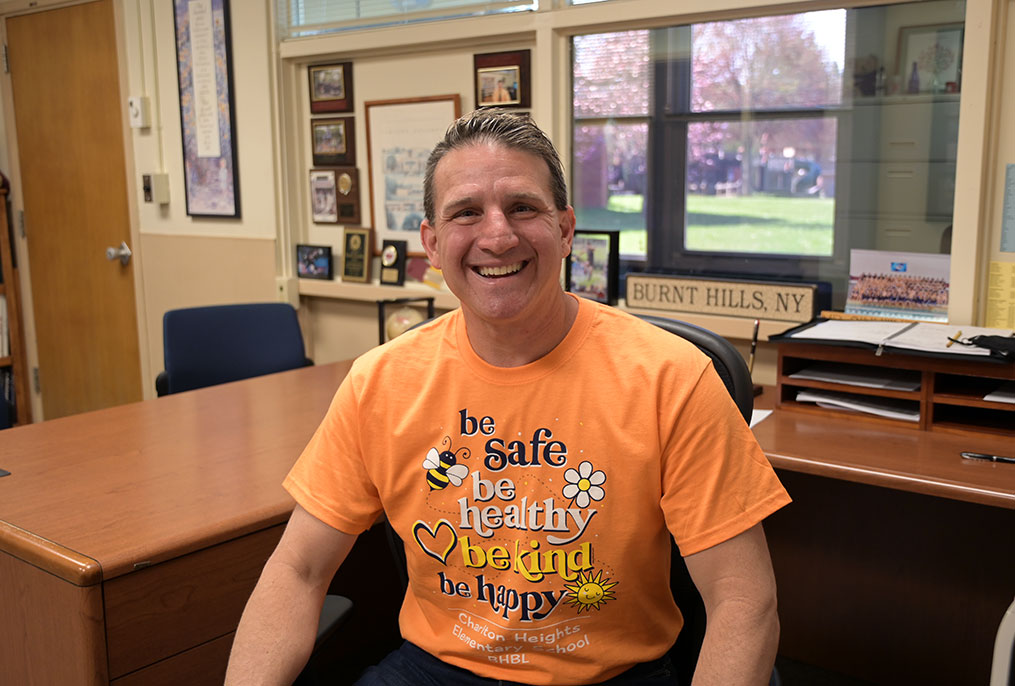 Mr. Sinnenberg: A Spartan Through and Through
Long-time Charlton Heights Elementary School Principal Tim Sinnenberg recently announced that after nearly 30 years at BH-BL he will retire on January 1, 2023.
Tim, a 1985 BH-BL High School graduate, began teaching at Charlton Heights in 1992. He spent nearly 11 years teaching third- and fourth-grade students and becoming deeply involved in school activities, such as drama productions, field days, and districtwide committees. In 2003, Sinnenberg swapped his classroom and chalkboard for an office with a PA system to become the school's fifth principal. (Tim currently has the second longest principalship at Charlton Heights, after Mr. James Dunham.)
This fall, district leadership will conduct an extensive principal search. They will begin by assembling a hiring committee of staff, administrators, students and community members so all groups can provide input and participate in the search. The goal is to hire a qualified candidate to begin in December. Tim will participate in mentoring the new principal to assist with a smooth, successful transition.
In a heartfelt letter to the Charlton Heights community, Tim wrote: "I want you all to know how proud I am to have been a part of this amazing school and district for the longevity of my career. As a teacher and a principal, my goal was always to give students a first-class educational experience in a supportive environment that cultivated the whole child. I wanted to ensure BH-BL children had the same experiences I was afforded when I was in elementary school (at Pashley)."
And those who know Tim know that he did just that. He has been involved in nearly every Drama Club production put on by the school and has an unwavering commitment to Arts in Education events and programs. He always looked for ways to improve the school environment and experience, and over the years secured grants to fund the school's Multisensory Experience Room, the Knights Lounge, the sensory path, and the 1001 Book Program to name a few.  Tim also believes that students should exercise the brain and the body, and could often be found participating in a gym class or joining a game of soccer or kickball during recess.
Over the years, Tim has been fully committed to making Charlton Heights a neighborhood space. He worked closely with the PTA and local businesses to fundraise and build two playgrounds (Magic Maze and Knights Arena). He has also been extremely supportive of and encouraged student clubs (i.e., Coding Club, Girls on the Run, Ski Club, Children's Garden, etc.) and whole-heartedly welcomed educational residencies (i.e., SPAC, traveling circus, etc.) to Charlton Heights. Tim has also been dubbed the school's (and possibly even the district's" historian. Just look at the "School History" link on the Charlton Heights webpage. He has recorded field day results, academic and extracurricular awards, kickball game results, presidents awards, drama club programs and so much more over the years.
"I'm thrilled to have been a part of these rich, meaningful experiences that help create lasting memories for our students," says Tim. "And the same can be said for all of the committees I've been involved with over the years. I'm fortunate to have had the opportunity to help make BH-BL what it is today."
Although Tim's retirement plans include world travel and winters in Florida, it will be difficult to take the Spartan out of him. He plans to continue as the director of the Charlton Heights drama production next year and will participate in the BH-BL's Athletic Hall of Fame and Visual and Performing Arts Hall of Fame committees. He will also  coach swimming with the Schenectady Saratoga Sharks and he even plans to compete in masters swimming competitions around the USA.