BH-BL High School student wins state championship; advances to Nationals
Eleven Capital Region students placed in the top three places of their respective job skills competitions in New York State during the recent statewide SkillsUSA competition.
Three of those Capital Region BOCES students took first-place honors and earned the right to compete in the national SkillsUSA competition in June where they will face thousands of peer competitors from around the country to determine who the best of their respective trades are. The winners are Lucia Hingi of Shenendehowa, Nicholas Grock of Burnt Hills-Ballston Lake (BH-BL) and Breanna Russell of Mohonasen.
Hingi, a culinary arts student, took first place in the Job Skills Demonstration competition; Grock, a Diesel Tech student, took top honors in the Diesel Equipment Technology competition; and Russell, a Digital Media Design student, took first place in the Employment Application Process competition.
"It made me nervous, but it was fun. I think the competition helped prepare me with my com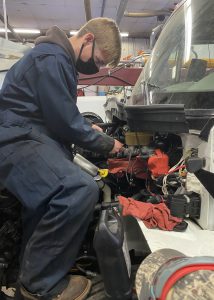 munication and speaking skills. It also helped to strengthen my cake decorating skills," said Hingi.
"It feels great. The hard work has finally paid off," said Grock.
Russell concurred.
"It showed me that if I can do whatever I want to do if I put my mind to it and have confidence," said Russell.
The state competition took place the week of April 12 with 21 students from a dozen Capital Region BOCES component schools competing against hundreds of their peers from across New York State. The national SkillsUSA competition will be conducted virtually this year from June 14-18.
"I am looking forward to seeing how well I can do at the national level," said Grock.
SkillsUSA is a professional organization teaching technical, academic and employability skills that help high school and college students pursue successful careers. Members build these skills through student-led charitable acts, leadership conferences and other activities. Students in SkillsUSA participate in hands-on competitions in various fields such as science; technology; engineering; mathematics; building construction; and heating, ventilation and air conditioning.