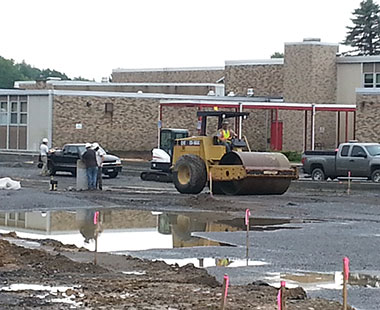 Project work at middle school right on schedule
MS parking lot to be ready for start of school
If you've driven by O'Rourke Middle School recently, you've likely seen large piles of dirt, new curbing and sidewalks being installed, and construction crews using heavy machinery to prepare the middle school main parking lot for new asphalt, a better water drainage system and new parking orientation.
We are in the final homestretch and right on schedule, according to the district's construction management firm. The parking lot will be ready for the first day of school.
This is an exciting time for BH-BL because the work at the middle school marks the official start of the district's voter-approved Building Our 2nd Century Renovations Referendum project.
Future projects
Next up on the referendum schedule is the construction of the new traffic circle and student drop-off area at Stevens Elementary School, as well as the reconfiguration of the school's main office and removal of the dilapidated garage located at the back of the parking lot. While the main office is being renovated and upgraded, visitors will use an alternate entrance located on the right-side of the school. Clearly marked signs to help direct visitors to the temporary entrance will be posted on school property. All of these projects are slated to begin in early fall 2014.
Also scheduled in the fall is the clearing and grading of the new access road off of Route 50 on the newly purchased property located behind the high school athletic fields. The purchase of this property was approved by voters in the May 2014 Budget & Proposition vote.
In spring 2015, work at the high school will begin. This includes the construction of a multi-purpose turf field with a synthetic track and stadium lighting; masonry work on the pool; and construction of the storage building.