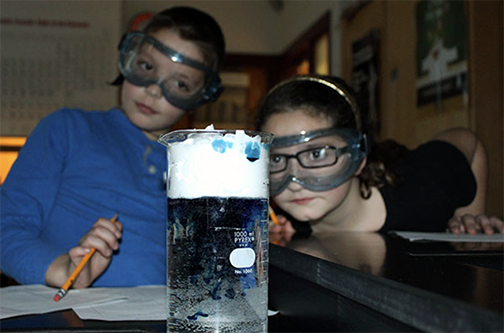 Elementary & HS students perform science experiments together during Science Demo Day
Dry ice bubbles, computer programming, Oobleck (aka Science Slime), Glow in the Dark Bubbles, CD Hovercrafts, Elephant Toothpaste, an Iodine Clock, and Lava Beakers were just some of the nearly 20 different science experiment stations that students in fourth grade were exposed to during the high school's first Science Demo Day.
"This Science Demo Day was about introducing young students to the wonders and fun of science education by giving them a chance to perform some fascinating and exciting hands-on experiments," explain K-12 Science & Technology Department Head David Collins.
All of the experiments were "taught" by students in Science Honor Society, Science Club and on the BH-BL Robotics team who worked in peer groups to research and develop an age-appropriate experiment. The students volunteered during Regents week to participate in Science Demo Day because, they said, science is fun.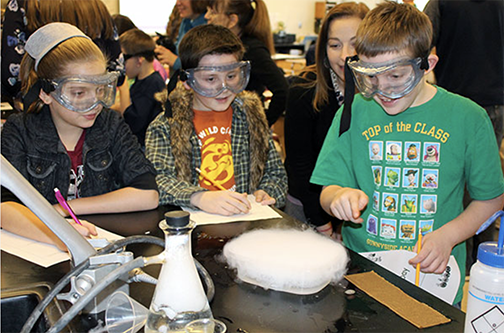 "Science can be really cool," says BH-BL HS senior Kevin Gideon. "I like working with the little kids and seeing the amazement on their faces when an experiment yields a neat end result." Gideon, along with experiment mates Casey Northrup and Emily Digman, demonstrated how to make dry ice bubbles, which means creating clouds of fog that fill up a dry ice bubble until the pressure becomes too much and the bubble explodes, spilling fog into the air.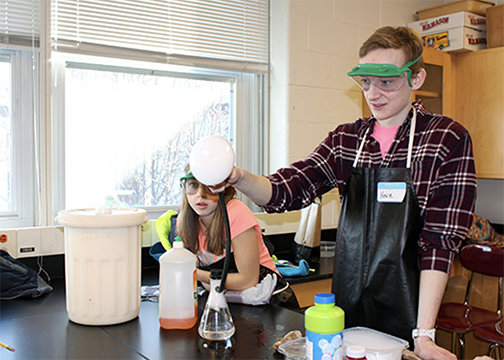 "You know you've struck a chord with students when they ask if they can try it, and then they follow up with lots of questions," said another student.
It's these types of hands-on lessons and engaging activities used to enhance the curriculum that BH-BL supports and strives to bring to its students.