Sports marketing class visits Stevens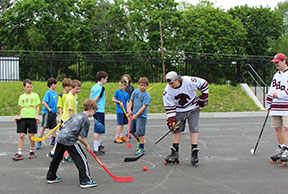 Earlier this week, students in Mrs. Wheeler's Sports Marketing class visited fourth- and fifth-grade students at Stevens Elementary School to introduce them to the variety athletic offerings at the high school level. The idea behind the sporting presentation was to inform young kids now of the opportunities that await them at high school.
"We hear too often that elementary students don't think they can try out for a sport because they didn't start playing it in kindergarten," explains Wheeler. "This demonstration was about letting kids know that age is not a limitation, and that many of these stellar athletes didn't begin playing the sport they excel in until middle or high school."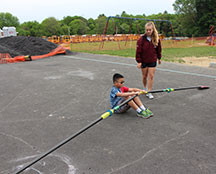 The high school students also promoted the importance of working hard on and off the field by explaining how all of BH-BL's varsity teams are Scholar Athlete Teams.
"There's a lot of pressure on kids today, so we wanted high school students to talk with kids who were once in their very shoes," adds Wheeler.