Op-Ed from Saratogian
Thank you BH-BL School Nurses: Donna Fredericks (HS), Laura Jewell (O'Rourke), Tracey Hay (Stevens), Jodi Reynolds (Pashley), Cheryl Traver (Charlton Heights), April Park (Districtwide) and Courtney Powers (substitute nurse)
Additionally, so many other BH-BL staff jumped in to help to assist at the clinics—thank you!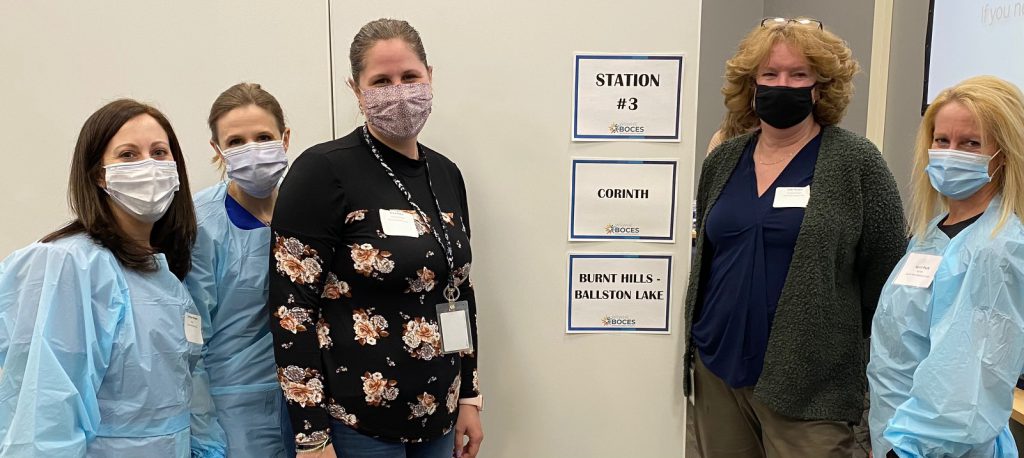 Photo left to right: Courtney Powers, Laura Jewell, Charlton Heights Secretary Erica DeBie, O'Rourke Secretary Judy Doepel, and April Park. 
With more and more New Yorkers getting their COVID-19 vaccines, Saratoga County school administrators wanted to take a moment to acknowledge the dedication of more than 50 school nurses who participated in closed PODs for educators over the last two months. These PODs, which stands for Point of Dispensing, are temporary sites in the community where vaccines can be quickly administered to people in large numbers. Recently, several PODs ran through a partnership between Saratoga County Public Health Services, Saratoga County schools and WSWHE BOCES.
Just about every Friday from Jan. 29 until April 16, happy educators could be seen leaving PODs at the WSWHE BOCES Ballard Road Conference Center or Ballard Elementary School in Wilton, knowing that they had received their vaccine and were a step closer toward returning our schools' classrooms to normal. The PODs were made possible by the cooperation of schools, the county and the willingness of our county's school nurses to go the extra mile.
Prior to the first POD, a small number of school nurses were trained by Saratoga County Public Health Services on how to administer the COVID-19 vaccine. In subsequent PODs, the school nurses took charge and trained even more school nurses so that additional school staff could be vaccinated.
Each week, depending on availability, they administered between 150-400 doses of the vaccine. These nurses came to the PODs after a full day of work, oftentimes having dealt with COVID-19 issues and their daily workload at their own schools.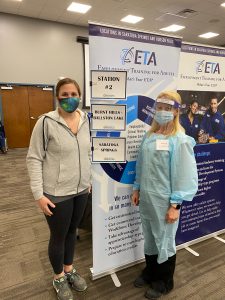 When the county and school administrators came up with the idea to hold PODs as a way to get teachers vaccinated, it was a novel idea. And our school nurses were the first to volunteer. Many returned week after week to help their colleagues, showing the tremendous grace and composure that our country's health heroes have displayed throughout the course of this pandemic.
In total, Saratoga County school nurses vaccinated 1,540 education staff from 24 Saratoga County public and private schools, including WSWHE BOCES and Capital Region BOCES. This represents about 30% of all the education staff in the county. The efforts of our unique partnership and those of other agencies has resulted in 90% of all Saratoga county teachers and school staff having received the vaccine. This lays the groundwork for safer schools and increases the ability for in-person learning for more students.
Many of our nurses said participating at the WSWHE BOCES PODs made them feel useful and they enjoyed making a positive contribution. It does indeed take a special person to be a nurse. We salute all nurses, but in particular we thank the school nurses in Saratoga County who helped lead the effort to protect our staff and communities, and are dedicated to keeping our kids in school learning every day despite the difficult circumstances we find ourselves in.
If you see a Saratoga County school nurse, reach out and say thank you for helping to keep our schools—and our communities by extension—safe. Our school nurses no longer tend only to tummy aches and scraped knees. They are our own front line in keeping our buildings and personnel out of harm's way. On behalf of 24 Saratoga County public and private schools, and BOCES, we thank our nurses for that gentle touch, their cheerful energy and the professionalism they showed over the past few months and everyday. They are our own healthcare heroes.
With gratitude, on behalf of:
Saratoga County: Daniel Kuhles, M.D., M.P.H., Commissioner Saratoga County Public Health Services; Cathy Medick, Director, Saratoga County Public Health; Lori Prock, Emergency Preparedness Coordinator, Saratoga County; Michaelah Townley, MPH, Senior Health Educator, Saratoga County Public Health
Saratoga County Superintendents of Schools: Kenneth Slentz, Ballston Spa CSD; Patrick McGrath, Burnt-Hills Ballston Lake CSD; Mark Stratton, Corinth CSD; Michelle Ellis, Edinburg Common School; Brita Donovan, Galway CSD; Bruce Potter, Mechanicville City SD; Michael Patton, Saratoga Springs City SD; Ryan Sherman, Schuylerville CSD; Oliver Robinson, Shenendehowa CSD; Kristine Orr, South Glens Falls CSD; Patricia Morris, Stillwater CSD; Patrick Pomerville, Waterford-Halfmoon UFSD;
Saratoga County Non-Public Schools Administrators: Matthew Hopkins, Augustine Classical Academy; Debbie Kenyon, Mother Teresa Academy;
David Mitchell, Oak Hill; Joseph Kilmade, Saratoga Catholic; Lisa Brown, Saratoga Independent School; Jane Kromm, St. Clements; Lynn Fitzgerarld, St. Mary's Ballston Spa; Matthew Rucinski, St. Mary's Waterford; Katie Gifford, Sara Marie School; Abigail Reid, Waldorf School
Capital Region BOCES: Anita Murphy, District Superintendent of Schools and Joseph Dragone, Senior Executive Officer
WSWHE BOCES: James Dexter, District Superintendent of Schools