To help make the breakfast and lunch payment routine for your child just a little bit easier, BH-BL has implemented a new online school meal payment program–Titan School Solutions. This new program replaces MySchoolBucks.  (Go ahead and delete that app off your cellular device. ) Also, any balances you have on MySchool Bucks will automatically transfer to the new system so there's nothing you need to do!
Sign up for Titan
To create an online school meal payment account for your child, simply go to the Titan School Solutions website, https://family.titank12.com, and create a new account. In doing this, you will  be able to make payments towards your students' meals. Your child will use the same ID number that has been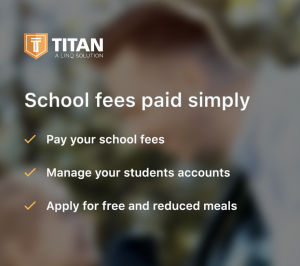 assigned to them. You can also submit a meal application through TITAN School Solutions for the current school year. Click on "Sign up today!" to begin the process of making a new account.
Additional benefits of the Titan system include: Balance transfers, setting spending limits, low balance notification, and so much more. Although school meals are free to ALL students for the 2021-2022 school year, if your child qualifies for the Free or Reduced School Meal Program we kindly ask that you still apply in order to qualify for additional benefits within the school.
For further questions, please call BH-BL Director of Food Services Nicola Boehm at 518-399-9141, Ext. 83170 or the support line for TITAN School Solutions at 916-467-4700, Option 2.