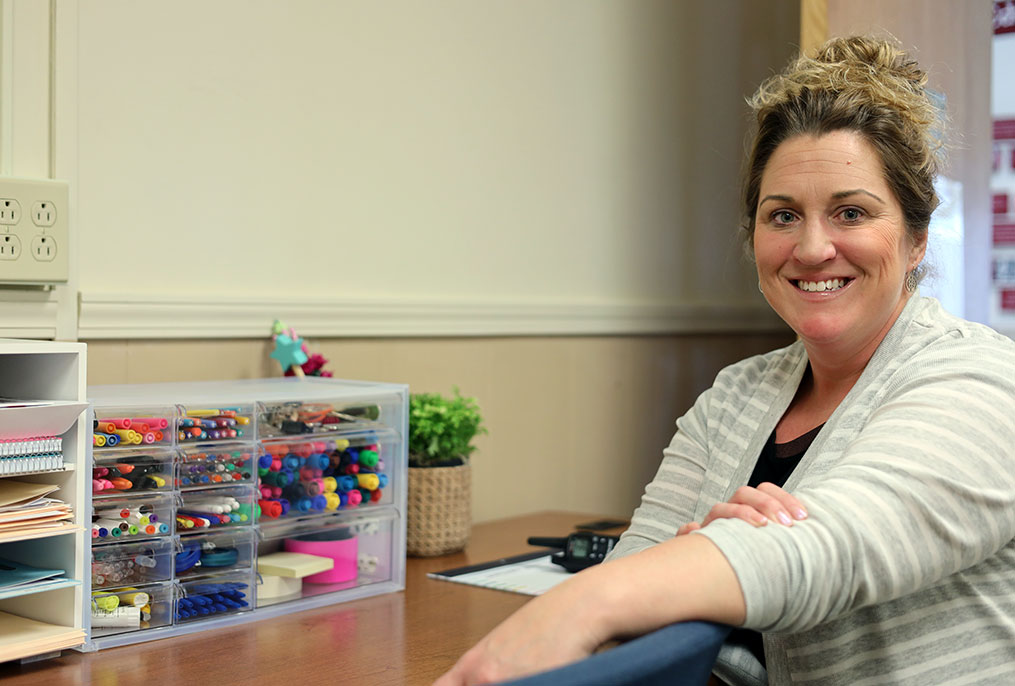 You could say Abbey (Wurz) North's career choice began at an early age when she created a school in her bedroom. Who were her students? Her dolls and stuffed animals, of course. She read her books to them, taught them the alphabet, and graded their papers–most likely with her enviable collection of colored markers.
"I always knew that I wanted to be a teacher," says North. "There was never any question about it. I love school and kids, and I always wanted to have my own classroom where I could teach creative lessons so kids were learning while having fun." North, who credits her love of learning to the educational experiences and opportunities she was exposed to as a Spartan, says she carried those memories with her at every job and worked hard to replicate those lessons and experiences for her students.
After graduating from BH-BL High School in 1999, North pursued her dream and studied Elementary Education at Oswego State. She went on to obtain her master's degree in Education Administration and Policy Studies from the University of Albany where she also earned her Advanced Graduate Certification in District Leadership. Before becoming the new Charlton Heights Principal, North was a principal at both the North Colonie and Johnstown School Districts. Prior to that, she spent nearly a decade at the Mayfield School District primarily as a second and third grade teacher, then as an assistant principal.
"Shifting from teaching into a leadership role was a natural fit for me," adds North. "As a principal, I get to interact with even more kids and have a hand in helping shape their elementary educational experiences. It's like being a teacher for the entire school."
Leadership roles are a comfort zone for North. In high school and college, she was heavily involved in Student Government Organizations and various clubs and, at the age of 17, earned the prestigious Gold Award for Girl Scouts, which is the highest achievement and takes a great deal of research, collaboration, and organization. In fact, if you've ever been to an event held in Freedom Circle at BH-BL High School, you have North to thank for that space. For her Gold Award project, she created Freedom Circle (named by another class) in 1998 as a memorial to veterans who were graduates of BH-BL. This space has since become a gathering place for high school events dedicated to honoring and memorializing military personnel and veterans. (Photo below: Senator Tedisco, Abbey Wurz (North) and Former Senator Hugh Farley at the dedication ceremony.)
Becoming a Charlton Heights Knight
North kicked off her first week at Charlton Heights by visiting every classroom to meet staff and students, eating lunch with students, and even attending recess where she admits she watched a soccer game only because she didn't have her sneakers with her. However, come spring, you might see North with a lacrosse stick in her hand. She and her family are major lacrosse fans, she says. Both of North's sons (Anderson, in second grade, and Benton, in middle school at Ballston Spa) play lacrosse year round.
When not on the lacrosse field, North, her husband Chris, and sons can be found at her parents' camp on Sacandaga Lake where they enjoy kayaking, swimming, boating, hiking, and walking their dog, Roxy. North also enjoys cooking and reading, and hosting Sunday dinners with her family.
"Building relationships and working together to keep those relationships healthy is something I strongly believe in and value," says North. "I'm always seeking to strengthen the school-to-family connection and am so pleased to learn that the path has been paved here. I'm really looking forward to getting to know the Charlton Heights community."
In an effort to get acclimated and immerse herself in the new job, North attended several school events prior to her start date. (She and Principal Tim Sinnenberg were actually co-DJs at the Monster Mash where she also revealed her humorous side by helping run in the Hula Hoop, limbo, and best costumes contests.) North says she is extremely impressed with the amount of activities, clubs, and educational programs offered at Charlton Heights and even more impressed with the number of students and families who are involved in them.
"I'm so excited to be here and to continue offering amazing opportunities to students and families," says North, whose long-term goal was to always return to BH-BL. "I'm looking forward to embracing the traditions and even starting new ones. Being back is…well, like being home."