One boy's love of mustard kicked off his Student Council campaign & ended in a ton of goodness
It all started when Stevens Elementary School fifth grader Lincoln Barclay couldn't find his beloved mustard in the school's cafeteria on hot dog day. The COVID pandemic resulted in the large bottles of condiments being replaced by packets. But, much to Lincoln's dismay, he only saw ketchup packets.
His father, David Barclay, will tell you that  Lincoln will never, no way, eat a hot dog without mustard. "It's just wrong," says Lincoln. "Mustard and hot dogs simply belong together."
The missing cafeteria mustard is what fueled Lincoln's Student Council campaign. He assumed that if he was missing the deliciousness of mustard (four packets!) on his hot dog then other kids must be too.
His first step to getting this accomplished was to email Superintendent of Schools Dr. McGrath (photo above) and Stevens Elementary School Principal Dr. Evans to ask their permission to proceed with his quest to get mustard back in the cafeteria.
Dr. McGrath knew he could have easily returned mustard packets to the school's cafeteria. But as an educator, he wanted Lincoln to proceed with his mission and learn about the work and effort involved in seeing an idea through to fruition.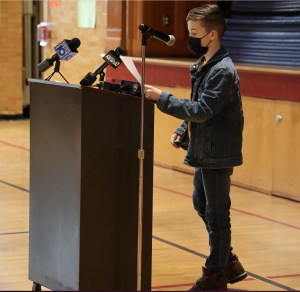 Upon getting the OK from school leaders off he went. Lincoln wrote his campaign speech that promised his peers that if elected as Student Council Vice President he'd bring mustard back to the cafeteria. "Mustard needs to be restored to its rightful place next to the ketchup," he said during his campaign speech.
Lo and behold, Lincoln got elected. Now it was time to get to work and figure out how to get the mustard. Luckily, Lincoln knows the power and reach of social media (thanks to seeing his parents' various charity fundraising efforts over the years). So, Lincoln asked his mom, Kathleen Barclay, to put a post on her Facebook page asking how he should go about getting mustard packets for his school. "I needed a starting place," explained Lincoln.
Fortunately for Lincoln, a representative from Price Chopper/Market 32 saw the post, reached out to McCormick, the makers of French's mustard, and one thing led to another (as if often does with social media) and the next thing they know there were a bunch of boxes on the Barclay's front porch all addressed to Lincoln. There was also a letter from McCormick explaining that the social media post made it to their headquarters in Springfield, Maryland, and that they wanted to help Lincoln fulfill his campaign promise. In the boxes were 2,000 individual packets of French's mustard, along with several pieces of French's swag just for him. (T-shirt, hats, mustard spreader, etc.)
On top of all this, Lincoln's Student Council campaign was also focused on raising money for two charities important to the Barclays–the Melodies Center for Childhood Cancer and the Mohawk Hudson Humane Society. When Price Chopper/Market 32 and McCormick learned of this endeavor, they EACH donated $1,000 to his cause.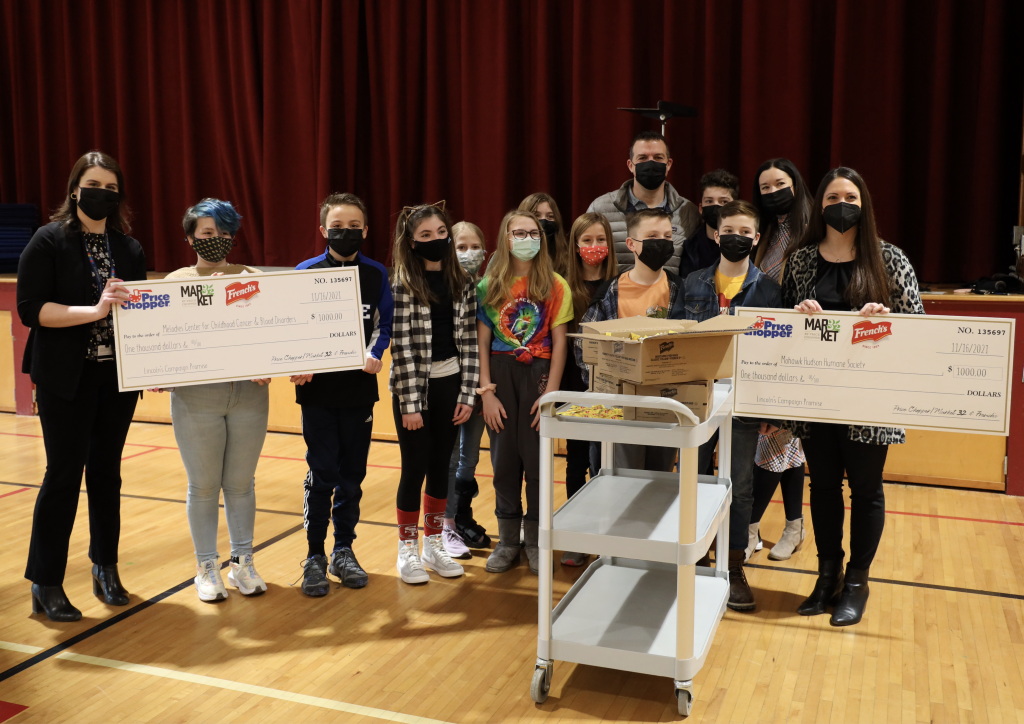 On Friday, Jan. 28, Student Council members held a fifth-grade assembly (attended by Channels 6 and 10, Spectrum and the Times Union) where Lincoln delivered the good news–mustard was back!
At the assembly, Lincoln was also able to hand over super-sized checks to Ashley Bouck from the Melodies Center and Cait Gibson from the Humane Society. Gibson announced that the next rescue pup that comes to the shelter will be named "French's" in honor of Lincoln's generous donation.
As the event wrapped up and Lincoln rolled the boxes of French's mustard packets to the cafeteria, his peers began chanting "mustard, mustard, mustard."  And wouldn't you know–it was hot dog  day!