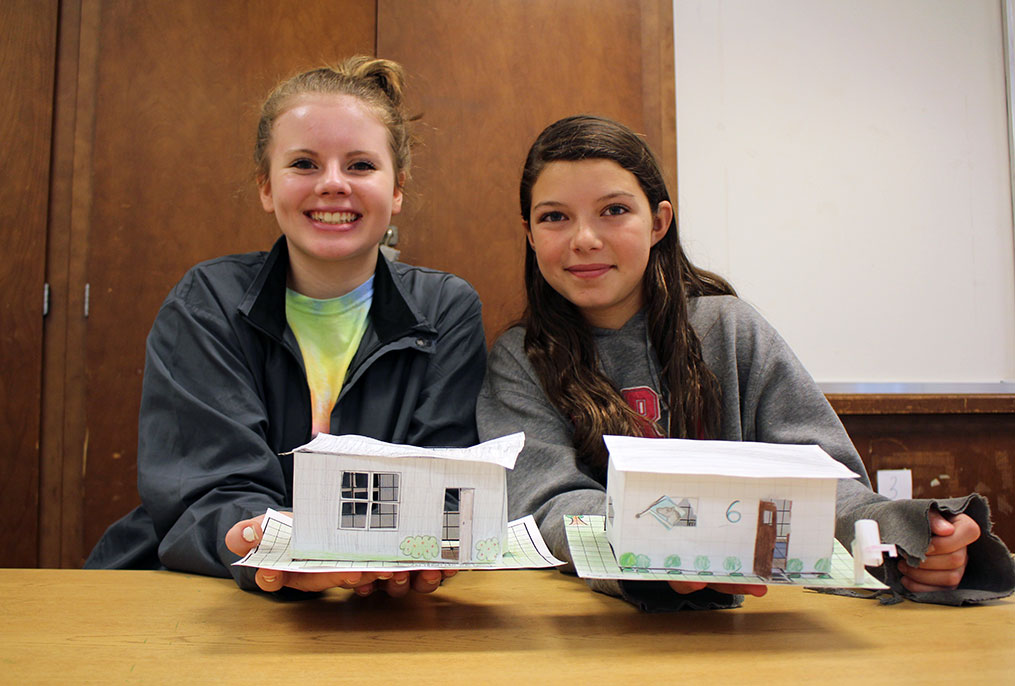 Students in Mauranda Comley's middle school Family and Consumer Science  classes (FACS) learned quite a bit about reducing, reusing, and recycling during their recent lesson on sustainability.
"I want my students to have a complete understanding of the impact we have on our planet and I want them to see how they can change their current behavior to have a positive impact for their future," says Comley. "We talked about how we can use less in our everyday lives and started thinking about what the real necessities are for living."
One of the culminating projects for this lesson was to build a model of a tiny home. Seventh grade students were required to research what was considered a necessity in a home (i.e., a working kitchen and bathroom, which includes running water, power, plumbing, heating source, etc.) and learn how to fit everything into the space. They constructed paper homes within the confines of the tiny home's square footage, too.
"I wanted them to have the model home be realistic and learn how to fit items into small spaces," adds Comley.
"This was a really good project and I liked learning about using less, composting, and conserving energy," says Amanda Laferriere, a seventh grade student. "It was definitely challenging to try to fit everything into a tiny home, however. I think I'd like living in a tiny home but not forever."
"It was eye opening to learn of the many different things we can do now to help the environment," adds Evelyn Phelps, a seventh grade student. "For example, in my tiny home I included a rainwater collection barrel to use in my tiny garden and this got me thinking about doing that, and other things, now."
After learning that in 2020 New York state will no longer be using plastic shopping bags at stores, eighth graders decided to make reusable shopping bags for their final project.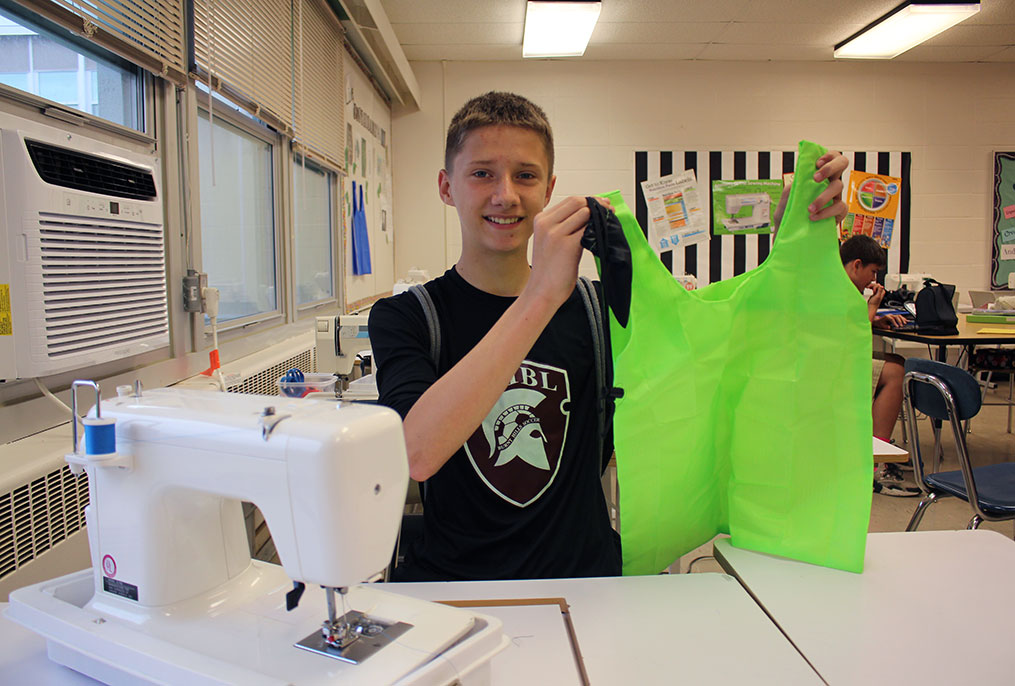 In order to assemble the reusable bags, students learned how to read a pattern to execute the design. An added bonus was learning how to make a sewing pattern and use the school's sewing machines.
"I think it's great that our garbage and recycling facilities will have much less plastic in them," adds one student. "Which why we decided to create a reusable shopping bag that folds up into its own pouch and is easy to carry."
Another student added that the carrying pouch will be a hit because it eliminates extra bulk and can easily fit in a purse or pocket.
"In a nutshell, we are all learning how to use less and recycle what we do use," says another student.
These are the exact type of takeaways and ideas Comley was hoping her students would get from her lesson on sustainability.