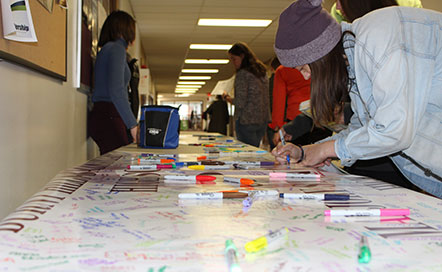 Students participate in activities to support victims of Parkland, FL
In response to the tragic incident at Marjory Douglas Stoneman High School (MDSHS) last month, members of the BH-BL High School Student Government Organization (SGO) and other student leaders decided to honor the victims and the Parkland, FL community on March 14 through voluntary student-led activities that were focused on raising awareness about school safety and showing support for MDSHS.
This morning, BH-BL students were invited to write personal messages on Spartan note cards and school banners that will be sent to Stoneman High School. They could also listen to brief readings that honored the victims and observe a moment of silence. Additionally, students were selling hand-painted flower pots that contained a packet of Forget-Me-Not flowers in an effort to raise money for the children's trauma unit at Broward Health North Hospital.