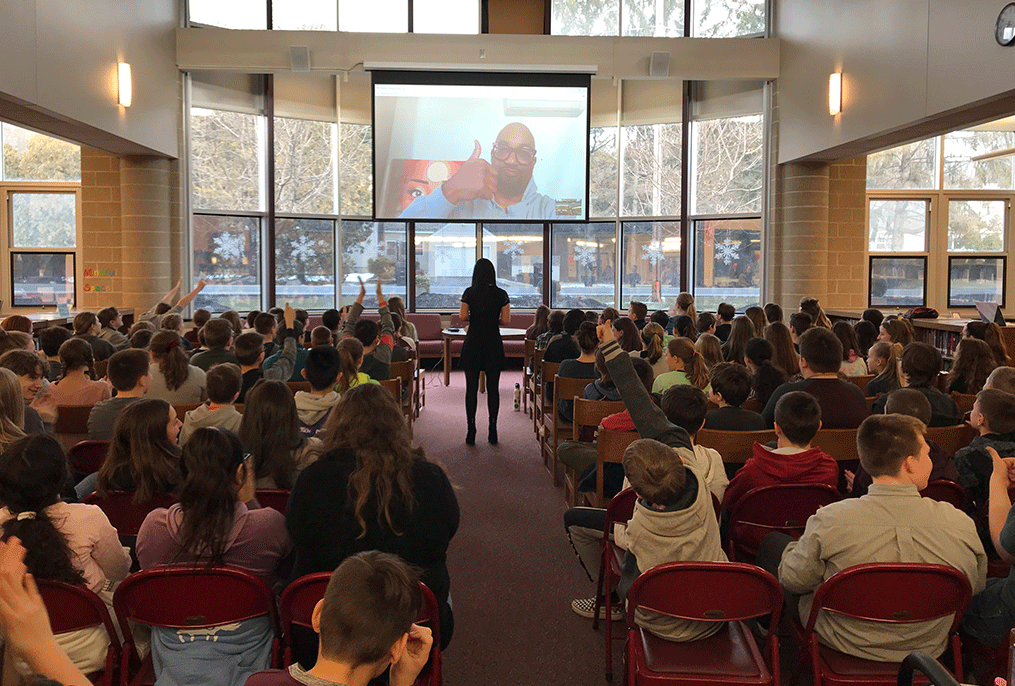 Thanks to today's technology, O'Rourke Middle School 7th-grade students were able to virtually meet and converse with the author of a book they had just finished reading!
As part of a  grade-wide project organized by the school's English teachers, 7th-grade students read the book Rebound by Kwame Alexander. And, using Google Hangouts, they participated in a question and answer session with the author himself. The students were able to ask him about his favorite parts of the book, what was important to him when he was in middle school, and other questions. They also learned about the author's life and his family and what it is was like to be an author.
In the past, students may have been able to write questions or email their questions to the author, but today's technology allows them to connect digitally and actually have face-to-face interactions. These types of interactions, though not in person, still help students develop their communications skills and interpersonal skills. They have to learn how to work together with their peers to organize their questions, adhere to a time management schedule, articulate and be precise when asking a question, and respond appropriately when asked a question.
"It was really cool to actually speak to the author of the book we just finished reading," said one student. "It was kind of surreal, really, to think the we got to speak to a famous person and ask him, directly, questions about his writing."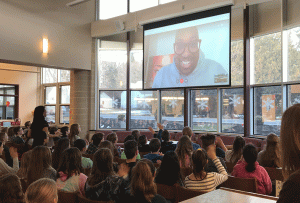 Kwame Alexander is an American writer of poetry and children's fiction. His verse novel The Crossover won the 2015 Newbery Medal recognizing the year's "most distinguished contribution to American literature for children." It was also selected as an Honor book for the Coretta Scott King Award. He also won a 2020 Newbery Honor for his illustrated poem The Undefeated. His picture book Acoustic Rooster and His Barnyard Band, was selected for the 2014 "Michigan Reads! One State, One Children's Book" program. His book Rebound is the prequel to The Crossover.
#WeAreORourke