Our wonderful reading program is BACK! Haven't heard about it? Here's the story: We have 100 blue bags, each filled with 10 books appropriate for Pre-K to 2nd grade.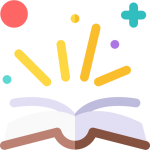 This collection of books will get your child reading about a variety of subjects and ideas. Students who read all 1000 books will have book #1001 read to them by Dr. Evans!
General Program Reminders
Blue Bags are now located in the vestibule on the shelves to the right
When "checking out" a bag, please complete the corresponding sign out form in the sign out binder with your child's name, phone number, and date.
When "checking in" a bag, please remember to sign the bag back in by writing in the return date in the sign out binder.  Please place the bag in the 1001 Book Return Box (not back on the shelf) to allow for proper time in quarantine.
You can keep the bag for up to two weeks while you read through the 10 books
Please do not use any cleaning sprays on the books.  If you choose to wipe them down, please spray a cloth prior to wiping.  We appreciate your help in keeping the books in good condition.