2018 Renovations Committee Reviewed Districtwide Needs, Made Recommendations to the Board of Education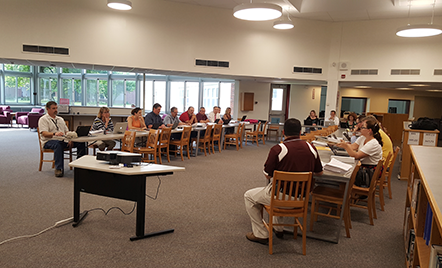 The district's 2018 Renovations Committee (comprised of community members, staff, parents, Board members, and students) were charged by the Board of Education to study major construction, renovation and maintenance needs districtwide. The committee met twice a month since January 2018. In that time, committee members toured all five schools and the transportation building, and listened to presentations from the principals and department supervisors about specific building needs and concerns.
The committee also focused on examining all renovations needs and reviewing projected cost estimates from architects.
Throughout June, the committee continued to work together to prioritize the different types of infrastructure projects, from those that would meet routine needs (energy conservation, roofing, and major repairs and upgrades to some of the oldest portions of the schools) to ways that classrooms could potentially be upgraded to better accommodate educational technology and 21st century teaching and learning.
The Board of Education spent most of July reviewing the recommendations and will be putting the project to voters on Tuesday, October 23, 2018. Conducting a renovations vote in 2018 allows BH-BL to continue its traditional five-year planning and funding cycles the district has been doing since 1978 to keep school facilities up to date and in good working order.
A detailed newsletter will be sent home to all residents in early October, and there will be several public meetings (PTA meetings, Senior Centers, etc.) where school officials will explain the proposal in details and be available to answer questions.