On Monday, June 1, nearly 15,000 absentee ballots addressed to BH-BL qualified voters were brought to the post office by 10 a.m. Residents should receive their absentee packets in the mail this week. This will give qualified voters enough time to complete the ballot and put the pre-paid envelope in the US mail in time for delivery to BH-BL by the 5 p.m. deadline on June 9.  Alternatively, voters can drop off ballots at any elementary school or at the district office during regular business hours  (8 a.m. to 4 p.m. Monday through Friday).  Ballots will also be accepted at those locations up until 5 p.m. on June 9. (The middle school campus is currently closed due to construction and will not be accepting ballots.)
IF on Friday, June 5, a resident's regular US mail delivery does NOT include an absentee ballot packet, he or she may pick up a provisional absentee ballot at the district office on Friday, June 5 and Monday, June 8 from 8 a.m. to 4 p.m., or on Tuesday, June 9 from 8 a.m. to 5 p.m. The district office is located at the high school, 88 Lakehill Rd. (If you Google the address, Google will indicate that we are closed, but we are open weekdays until 4 p.m.)
On Friday, May 29 the district was informed by NTS Data, the statewide vendor it was using to print, label and mail absentee ballot packets to qualified voters, that they are experiencing a delay in delivering ballot packets due to a shortage of envelopes and were not certain they would be able to get ballots out in a timely manner.
In order to ensure that residents receive ballots with enough time to mail them back to the district,  BH-BL enacted contingency plans that included working with the Schenectady County Board of Elections to have 15,000 ballots printed and folded on Friday, May 29. Due to the envelope shortage, the Board of Elections also provided the district with 15,000 outer envelopes that contain the ballot and the postage-paid return envelope for voters.
On Saturday, May 30 a team of district office staff and other volunteers were at the district office labeling and postmarking the envelopes from the Board of Elections in preparation for stuffing ballots and getting the absentee packets to the post office.
The ower of a local print shop, Vincy's Printing, agreed to cut his weekend short and began printing 15,000 absentee ballot return envelopes on Sunday, May 31.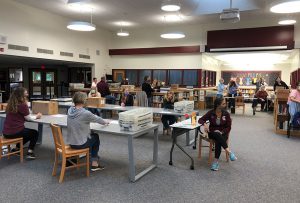 At 8:30 a.m. on Monday, June 1, nearly 50 volunteers were at the high school library ready to begin hand assembling the absentee ballot packets. The volunteers were given masks to wear and practiced other social distancing protocols. The volunteers were assigned to one of 10 stations where they either stuffed return envelopes, stuffed ballots, or sealed the outer envelope containing the ballot and return envelope. From there, the station leaders doubled checked that each envelope was postmarked and had a label before being stacked up in mail trays provided by the United States Postal Service. The mail trays were then brought to another station where another set of eyes checked to make sure they were properly sealed, postmarked and labeled before being placed in a numbered tray that was then delivered to the Ballston Lake United States Postal Service.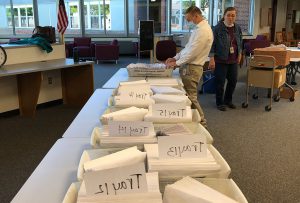 The district's goal was to get at least half (7,500) of the absentee ballot packets to the post office by noon, but the sheer volume of volunteers and the efficiency of the assembly lines results in ALL 15,000 absentee ballots being at the post office by 10 a.m. on Monday, June 1.
"It was a big undertaking to bring this job back in house but with the help of our neighbors–the Schenectady County Board of Elections and Vincy's Printing, along with all of the Spartan volunteers– we were able to do it and get the absentee ballot packet out in a timely manner," says District Clerk Tara Mitchell.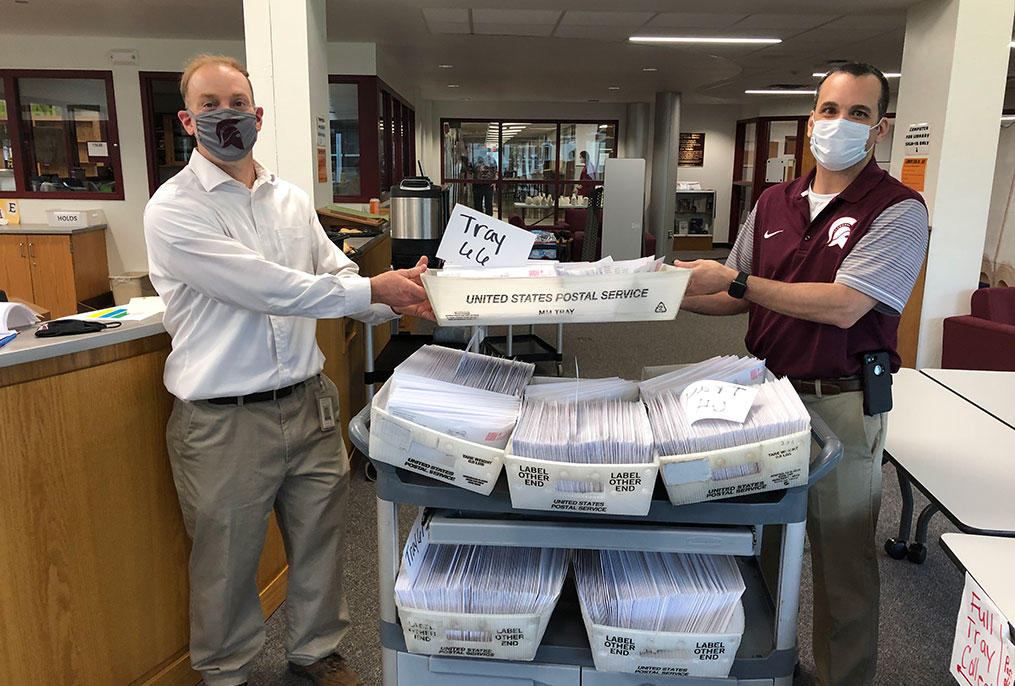 Superintendent Patrick McGrath and Assistant Superintendent Christopher Abdoo hold the 66th and final tray filled with absentee packets that were brought to the United States Postal Service on Monday, June 1.