In late April, the U.S. News & World released its 2020 Best High School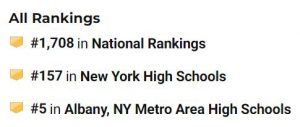 rankings; Burnt Hills-Ballston Lake High School receiving Best High School recognition ranking 5 out of 40 Capital Region area schools.
The rankings are done through a holistic approach by measuring six indicators: college readiness, reading and math proficiency, reading and math performance, underserved student performance, college curriculum breadth, and graduation rates. The data is based on rankings from 17,792 schools nationally. Each area is weighed, producing an overall score for each school between zero and 100. BH-BL HS received an overall score of 90.4.
"We are extremely proud of the hard work and continued dedication shown by our students, faculty, and staff," says BH-BL HS Principal Tim Brunson. "This recognition celebrates their incredible efforts and is well deserved."