High School Auditorium Renovation Takes Center Stage in Proposal
Estimated $9.96 million for extensive upgrades & expansion within existing space
Built in 1955, the BH-BL High School auditorium has spent more than six decades being host to countless school and community drama productions (and rehearsals), musical performances for all five schools, districtwide talent shows, assemblies, opening day celebrations, meetings, community events and programs, award and induction ceremonies…and the list goes on and on.
The auditorium, in its heyday, was grand. But 63 years of wear and tear (with very few upgrades over the years) has left it in need of considerable upgrades and improvements.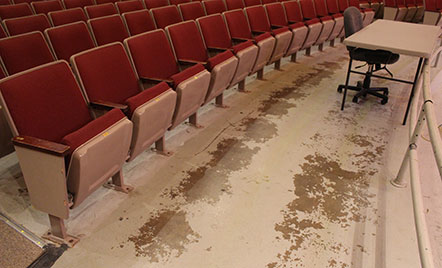 The current space becomes overcrowded (and overheated) during performances and is too small to even accommodate the high school's student body.
"We are pushing maximum seating capacity at nearly all of our events," explains Fine Arts Director Peter Giroux. "Over the years, this space has truly become a district- and community-wide auditorium, and it's simply too small and outdated for how we use it and how much we use it."
The auditorium also has outdated sound and lighting systems, poor acoustics, a flaking ceiling, and a cracked and splintering stage floor.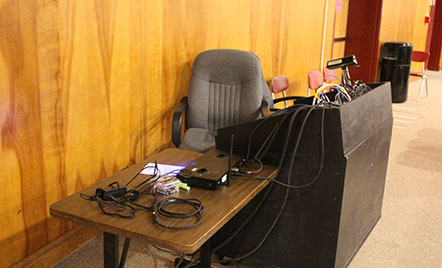 The HVAC system in the auditorium is inadequate and in constant need of repair. Facilities Director Dan Diggins explains the unit is so outdated that replacement parts are no longer being manufactured. He has to search online auction websites, such as eBay, in hopes of finding spare parts.
Renovation Plans
The auditorium is slated for a complete renovation and expansion, within its existing footprint, to transform it into a state-of-the-art performance space for students and the community. This includes:
Constructing a balcony to increase audience seating by nearly 15 percent to approximately 1,000 seats.
Installing air conditioning.
Installing new seats, carpets, house lights, and ambient floor/aisle lights.
Installing state-of-the-art audio and lighting systems.
Constructing lighting and sound booths with cutting-edge technology to allow for live video streaming of concerts and productions.
Installing a stage lighting gallery for better access to spotlights and other updated stage lighting features.
Widening the stage opening for more usable stage space and greater visibility for the audience.
Replacing the old stage curtain.
Repairing the stage floor with more durable materials.
Lengthening the orchestra pit by straightening the existing wall curve.
Installing appropriate acoustical treatments.
Heightening the fly space above the stage to allow for efficient scenery changes and set storage, and improving the quality and safety of the fly system (mechanism used to raise and lower stage scenery).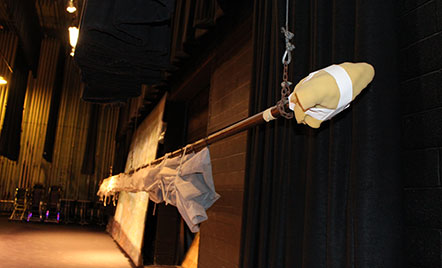 "I've spent the past 13 years watching my children and their friends perform in the high school auditorium. Some of my fondest memories were made in the auditorium. But, I also have memories of sitting in the audience with other parents as ceiling flakes scattered down on us. Or, at times, struggling to hear what is being said on stage. Our auditorium is the central hub of enjoyment for the entire community, which is why it would be beneficial to transform it into a state-of-the-art performance space while state building aid will fund a majority of the cost. After all, there are still so many students and their parents and grandparents and community members who have yet to make memories in our auditorium." —Amy Aldrich, parent and Capital Project Committee Member