BH-BL Art Program Overview
The BH-BL K-12 Art program strives to foster creativity in every student and promote a life-long appreciation for the visual arts. Our program encourages individual thought, decision making, creative problem solving, innovation, personal expression, and collaboration. Students create, present, and respond to works of art and learn how artistic ideas and artworks connect with society, culture, and history. BH-BL art students have numerous opportunities to showcase their work in exhibitions throughout the district, community, and the capital district.
Elementary School Art Program
Art education at BH-BL is offered for 40 minutes per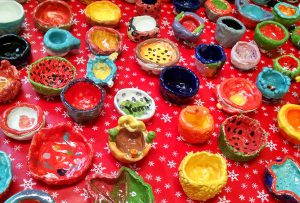 week in grades K-3 and 50 minutes per week in grades 4-5. Elementary students experience a wide variety of art forms including drawing, painting, printmaking, weaving, three-dimensional construction, and ceramics. Students are exposed to the historical and social aspects of visual art, and learn the critical components of art appreciation. In addition to their regular curriculum, elementary art classes are involved in numerous school-wide projects, interdisciplinary units, and Arts-in-Education experiences. As part of school fundraisers, art students at each elementary school create artwork that is transferred by SilverGraphics to collectible items such as refrigerator magnets, coffee mugs, and t-shirts.
Many of our elementary art students have their artwork on display at local events such as the Town of Ballston Community Library Art Show, the annual BOCES Art Show, and the Town of Ballston Festival of Trees.
Middle School Art Program
Art education at O'Rourke Middle School continues with an 8-week mini-course for sixth graders and longer units for seventh and eighth graders. Our middle school art curriculum uses the New York State Learning Standards for the Arts as a foundation for instruction. We strive to develop within students a lifelong relationship with the visual arts based on first-hand experience in art making. Students learn how to create, value, and respond to works of art.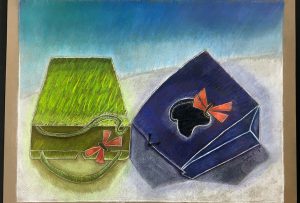 Students complete two- and three-dimensional projects in drawing, painting, sculpture, computer technology, printmaking, mixed media, and collage. In addition to emphasizing the process and production of art, teachers provide students with necessary experiences of critical written and verbal responses about their art, and with references to historical and societal aspects of art.
Middle school art students are involved in numerous school-wide projects and interdisciplinary units, including murals, wall decoration, and display case exhibits. Many of our art students have their artwork on display at local events such as the Town of Ballston Community Library Art Show, the annual BOCES Art Show, exhibits at Proctors, and in our annual O'Rourke Middle School Fine Arts Festival. In addition, our middle school has a very active Art Club which meets weekly throughout the school year.
High School Art Program
BH-BL High School students must complete 1 unit of Art or Music to complete the New York State requirements for graduation. In addition, students who complete a 5-unit sequence in the arts are not required to complete the additional 2 units of foreign language requirement for the Regents diploma or the Advanced Regents diploma with a BH-BL Merit Seal. Students interested in pursuing a sequence or career in the visual arts should begin this process in their freshman year with Studio 2D and Studio 3D, the foundation courses for all high school students. Completion of Studio 2D and Studio 3D allows students to take additional art elective courses including those earning college credit.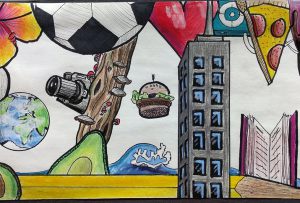 Art electives are offered in three areas: 2D, 3D and graphic arts. Students may explore and refine their skills in courses such as drawing, painting, ceramics, sculpture, digital art, animation, filmmaking, and photography. College credits can be earned through The Sage College of Albany in three of our advanced art electives: Advanced Drawing, Advanced Ceramics, and Advanced Digital Art & Design. Students take art electives for the love of art, to discover and nurture an interest or talent, and as preparation for a career in the arts or other related creative fields including those associated with STEAM. BH-BL students who have continued on as art educators, designers, or fine art majors in college have found that they are well prepared for continued study in the visual arts having completed a very full program of study at BH-BL. Students interested in attending a college for art or other creative fields such as architecture, digital arts, design, 3D design, and photography may need a portfolio to apply for these programs and should take an art sequence culminating with the Senior Portfolio class.
BH-BL high school students participate in many local, state and national competitions and exhibits. The Fine Arts Department annually hosts a 2-day Arts Festival which highlights and celebrates the works of individual student artists in a large gallery setting for all students and the community to enjoy. Honored senior artists also have their work presented at the annual Fine Arts Honors Showcase, along with musical performances and awards presentation. The Art Department also has a very active Art Club, which is open to any high school student and supports the visual arts and creativity with individual and group art projects. The Art Club annually travels to art museums.