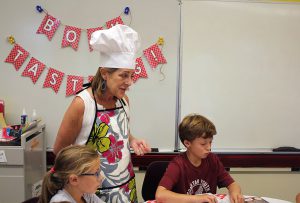 Fourth graders at Stevens Elementary School were cordially invited by their teachers to a "Book Tasting" to sample a variety of … well, books ???? of course.
In fact, after the students "made their reservations" they were escorted down the hall to the "restaurant" where dinner music was playing in the background and red and white checked cloths were draped over tables decorated with fresh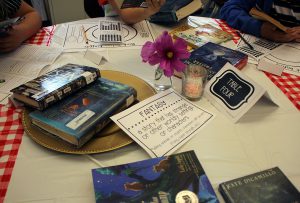 flowers, flameless flickering candles, and golden serving platter piled high with books. ???? Each table represented a different genre of books–Informational, Fantasy, Historical Fiction, Realistic Fiction, and Biography.
After sampling from a table's menu, students moved to another table for more sampling. While at the tables they were given time to familiarize themselves with the genre and peruse the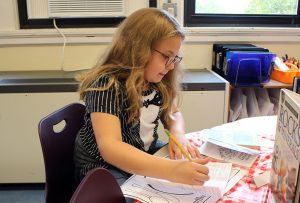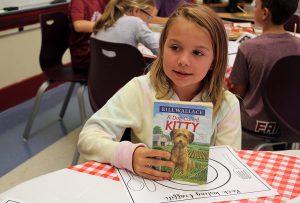 sampling of books related to that genre. Then they were given five minutes to sample–or read–a book they thought they'd enjoy. The students shared what they learned about the book with others at their table and recorded in their menus the title and author, first impressions, and whether or not they would read the book they selected.
In fourth grade students begin an independent reading project where they are tasked with reading several books throughout the year on their own.
"We often find that students get stuck in one genre so we wanted a fun and creative way to broaden their interests," says fourth-grade teacher Sue Guba.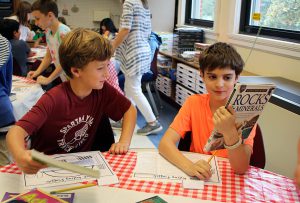 And fun and creative it was! The students were having a great time jotting all the different books they want to read this school year. While the students were encouraged to "taste test" the samples, they weren't actually allowed to bite into any of the books. They had to save that for the sweet treat ???? they received at the end of their tasting.