BH-BL High School & Career and Tech student headed to the Culinary Institute of America
High School senior Stephanie Jones is one of only two Capital Region BOCES students headed to one of the most prestigious culinary universities in the fall to build on her knowledge of the culinary arts.
Stephenie Jones of Burnt Hills-Ballston Lake and Gabriella Novak of Watervliet have been accepted into The Culinary Institute of America (CIA) for the fall semester.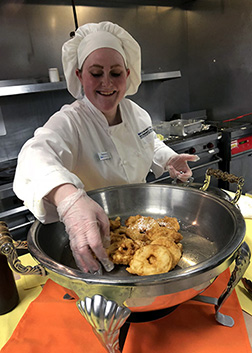 Novak and Jones are second-year students in the Capital Region BOCES Culinary Tech Prep program where they earn high school and college credits through SUNY Schenectady.
Chef Paul Dolan, who teaches the Culinary Tech Prep class, said two classmates from the class going to the CIA is unheard of.
"It is rare to have a student go there, let alone two. In 19 years teaching at BOCES, I have only had about eight go to there," Dolan said. "These two are good students and are dedicated to wanting to do their best."
For Jones, the decision to attend the Hyde Park, NY-based CIA was easy.
"It's one of the best schools to go to and it's been a dream of mine to go to there," she said.
Both women credit BOCES with preparing them to head to one of the top institutions in the world.
"I feel prepared. I believe what I have learned here will help me," Jones said.