Local School Districts Discuss State Aid Concerns with Legislators at Public Forum
As the state budget season ramps up, 10 local school districts came together to host a public forum on Thursday, Jan. 30 in the Columbia High School auditorium to discuss with state legislators some concerning trends in state education aid.
School administrators presented information about school funding, the growing needs of students in areas such as mental health, special education and English as a New Language, and the negative financial outlook if the current trends continue without intervention.
The common thread among the participating school districts, which prompted this joint effort, was that they have received the minimum in state aid increases in recent years.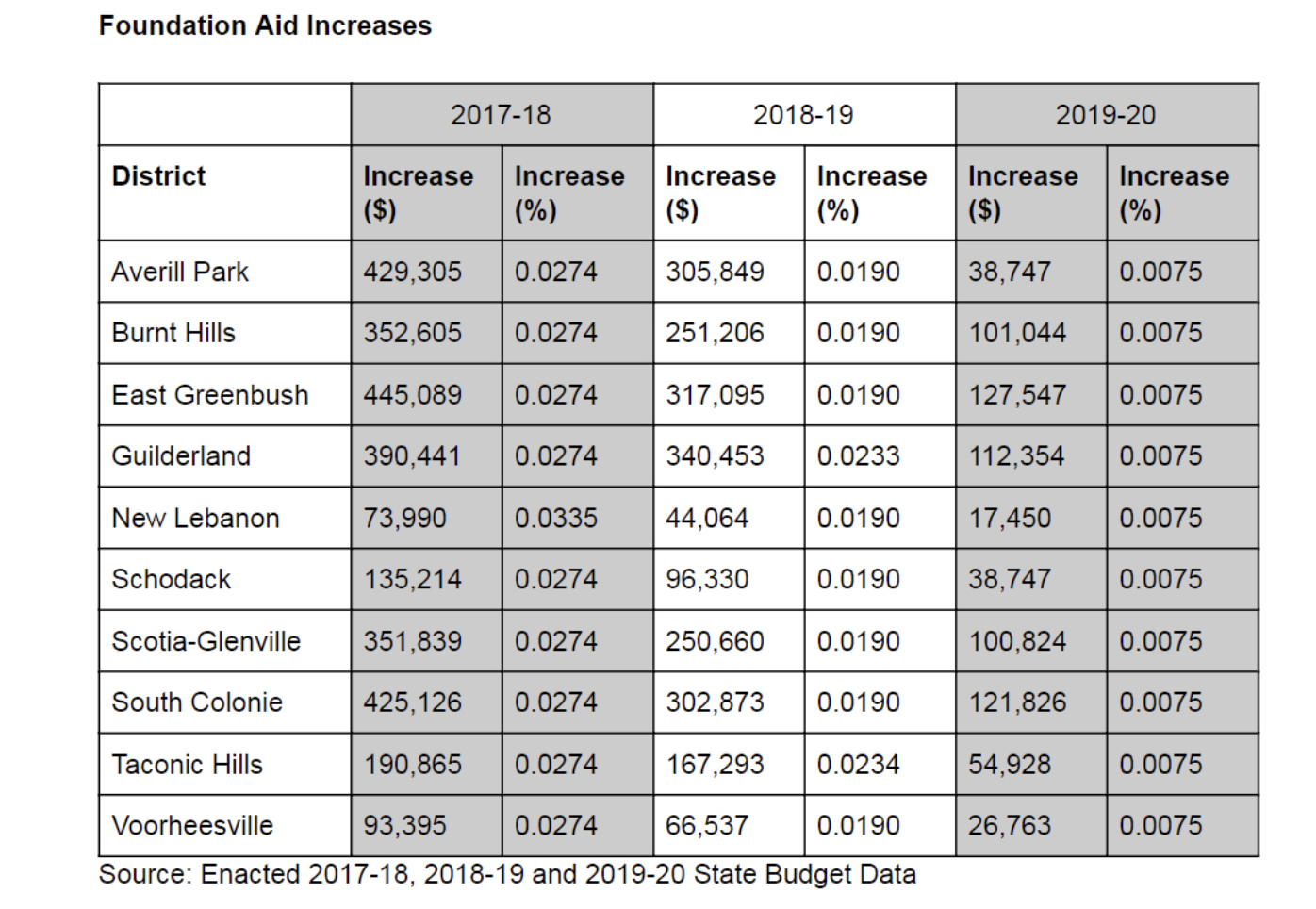 "Interestingly, that increase, being the lowest in New York State, has also declined each year so we're not only getting what's leftover, as the Foundation Aid is distributed through schools in New York State, what's left over is getting smaller and smaller," said Jeff Simons, superintendent of East Greenbush Central School District. "And we are concerned if the trend in state aid continues for our average-wealth districts, we're not going to be able to sustain some of the wonderful programs that you're about to hear about in each of our respective districts."
Making matters worse, that state funding has been below the rate of inflation, meaning it does not keep up with increasing expenses, forces school districts do more with less, and further shifts the burden of providing a sound education from the state onto local taxpayers.
"We have two factors working against us," said Dr. Patrick McGrath, superintendent of Burnt Hills-Ballston Lake, "basic, mandated needs continue to take up a larger slice of the expenditure pie, and the pie is not increasing at the rate of inflation."
Dr. McGrath concluded by asking the legislators to, like the tax cap, index minimum Foundation Aid increases to the rate of inflation.
Assemblyman Jake Ashby, who represents the East Greenbush CSD, acknowledged the importance of mandate relief as a way to control rising costs for school districts.
"Instead of having mandates, have a menu of options, and give the autonomy to the communities that are supposed to be delivering, implementing and providing these services the opportunity to choose," he said.
Another concern expressed by the school districts is how the Foundation Aid formula is calculated. It is based on outdated metrics from 10 years ago, and before the introduction of the 2-percent tax cap. Because of the tax cap, which school districts recognize as beneficial to local taxpayers, it limits how much revenue schools can raise when the state aid does not cover growing expenses.
During the Q&A, legislators expressed their own frustrations over the Foundation Aid formula, as well as, the political way in which education funding is distributed to schools throughout the state.
"Putting resources aside, obviously modifications to the formula can be challenging. We know that," said Assemblyman John McDonald, who represents part of the East Greenbush CSD. "We'll try to work through that as best we can. This is why these forums are so critical."
In addition to the need for more state funding, legislators were asked to support a list of seven proposals, not directly tied to an increase of funding, that would benefit school districts. Some of those items included decoupling Foundation Aid and expense driven aid, raising pension caps for retired teachers to help hire quality, experienced substitutes and reducing state restrictions to provide greater access to mental health services for students.
"We've talked a lot about mental health tonight and I'm really proud to be one of those school districts that has an on-site mental health clinic, but I'll tell you, it was like pulling teeth to get it," said Dr. Marie Wiles, superintendent of Guilderland CSD. "It took eight months before we had full approval and before we had an actual clinician in the space that we had ready to go in September. There is a ton of red tape. We could use some help with that."
Throughout the evening, legislators answered questions from the audience and the moderator, Kason Romanowski, a Columbia High School student. He and other Participation in Government students were involved in the planning of the public forum.
"Even though there's been flat funding, and even though we need a lot more money, we also heard the successes of each of the schools (tonight)," said Senator Neil Brelin. "It is dramatic and positive and speaks well for our students now and in the future.
"Keep putting the pressure on the ones who aren't doing enough to give you the money," Senator Breslin continued. "The squeaky wheel does get the grease. I always tell every school district, come in as many times as you'd like to go over things because you all have unique needs but you have all been successful in what you do by making that nickel go a little further."
Thank you to the following state legislators and their representatives who attended the Forum on the Sustainability of Schools:
Senator Neil Breslin, 44th District
Patrick Cronin, Legislative Director for Senator Daphne Jordan, 43rd District
Alex Blizinski, Legislative Assistant for Senator James Tedisco, 49th District
Assemblymember Jake Ashby, 107th District
Assemblymember Patricia Fahy, 109th District
Assemblymember John McDonald, 108th District
Alison McLean Lane, Legislative Director for Assemblymember Phil Steck, 110th District
Assemblymember Mary Beth Walsh, 112th District