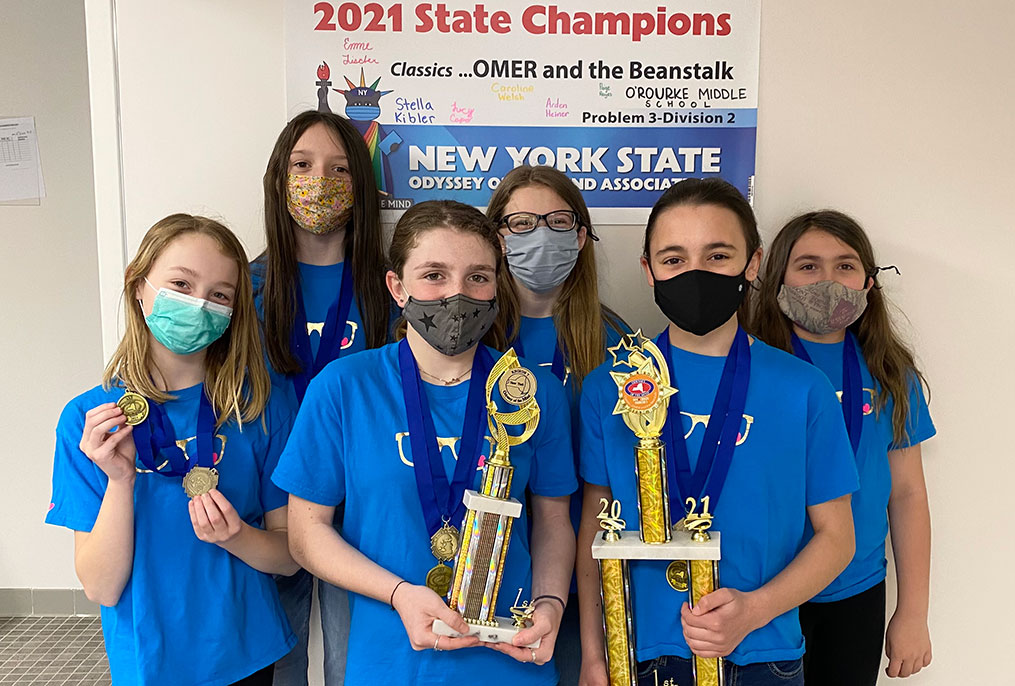 The O'Rourke Middle School Odyssey of the Mind team are New York State Champions!
Congratulations to the team of 6th graders (coached by Middle School & High School teacher Kodi Kibler) Stella Kibler, Caroline Welsh, Lucy Capo, Arden Heiner, Emme Fischer, and Paige Reyes for not only winning 1st place in the state competition, but for also being awarded the highly coveted Ranatra Fusca Creativity Award.
The Ranatra Fusca Award represents the essence of Odyssey of the Mind. It is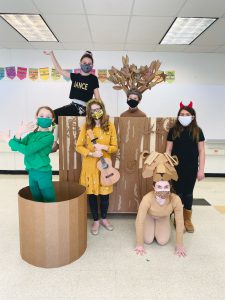 given to teams that exhibit exceptional creativity or an extraordinary idea. The judges wrote, "[O'Rourke Middle School] presented a complete and detailed solution that was a unique blending of creativity, artistry, and technical elements that went beyond the norm. Their solution depicted a youngster who had dyslexia which caused problems in her reading and dancing. She gained confidence in a storybook world culminating in a lesson on the mature and difficult concept of self-acceptance. All the elements of their solution combined to create a blending of multiple risk-taking factors that culminated in a beautifully solved problem that sincerely handled a sensitive subject." O'Rourke Middle School was one of 5 teams in the entire state competition of 169 teams to receive this award.
The team's win came after months of planning and preparation that was done almost all virtually over Google Meet. They are currently busy making improvements to their solution for their next competition – the Odyssey of the Mind World Finals competition in May. This will be the team's third trip to the World Finals. In 2019, they placed 3rd in the world and in 2020, they came home with a 1st place World Championship title.
Odyssey of the Mind is a team-based creative problem solving competition that attracts teams from all over the world. The program incorporates science, technology, engineering, and the arts to teach students the importance of teamwork, problem solving, and creativity.