"Running joke" between student and teacher turns into a …well, a real running race
Watch them race on May 5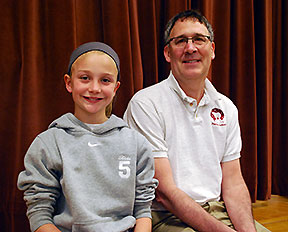 Pashley Elementary School fourth-grade teacher Roger Kopa and his former student Ella Blesi have had a running joke between the two of them for a couple of years about the lucky number five. Their joke, which is full of teases about who really deserves to take ownership of the lucky number, escalated this year when the number five took on new meaning for Mr. Kopa.
"I've always been a fan of the number five because it's my date of birth–May 5," explains Kopa. "But this year on 5-5 I will turn 55. That adds a whole new level of five being my favorite number."
Yet, it also means a lot to Ella. For starters, Ella is a star athlete who plays basketball, soccer, and lacrosse and favors the number five because it was the number on her first sports team jersey. From that day on she's been known as player #5 no matter what team she's playing on (see photo where she's wearing a sweatshirt with her beloved #5 embroidered on it). Secondly, Ella is now in grade 5.
Last year Kopa used to joke with Ella that he was going to race her for ownership of the number. But then he saw her sprint at Pashley's 2015 Field Day where she won all of her events and advanced to the Districtwide Field Day where she won her relay. That's when he realized she might be the true owner of lucky number five.
However, the significance of the number five in Mr. Kopa's life this year is too strong to pass up, so he has returned to his original idea and challenged Ella to a sprint.
Ella's family and Mr. Kopa's family are all in on this running joke. They've agreed to pledge $55 each for the race with the winner being able to donate the money to the charity of choice. If she wins, Ella has already decided to donate the pledges to the Brave Will Foundation.
"I'm not terribly worried," says Ella in a confident but humble voice. "Mr. Kopa said he thinks he can beat me, but then he says only if I run backwards with flippers on," she adds with a giggle.
Ella and her friends even got Mr. Kopa a lucky pair of shoelaces to use for their race.
"Ya know, the kids didn't say I had to use the laces in my shoes," says Kopa. "I might just use them to tie Ella's sneakers together to slow her down a bit!"
Mr. Kopa and Ella will race on Pashley's track on Thursday, May 5 (his birthday!) at 1:05 p.m. They will race each other around the track for one lap. Ella's mother even had shirts made for them–Ella's has the number five on the back while Mr. Kopa's has the number 55 on the back.
To sweeten the pot, Mr. Kopa has agreed to shave his head if the Pashley community (including teachers and staff) can match the $110 that he and Ella have raised and will donate to a charity of choice.
Upon hearing this news, Pashley Principal Jill Bonacio said: "Oh, we will make sure we match the $110 already raised. I think we all want to see Mr. Kopa with a shaved head!"
In fact, there's a collection bin labeled "Shaved Head Donations" sitting on the main office counter waiting for people to make donations–preferably with the number 5 in it (but any amount will do).
Good luck to both Mr. Kopa and Ella Blesi.