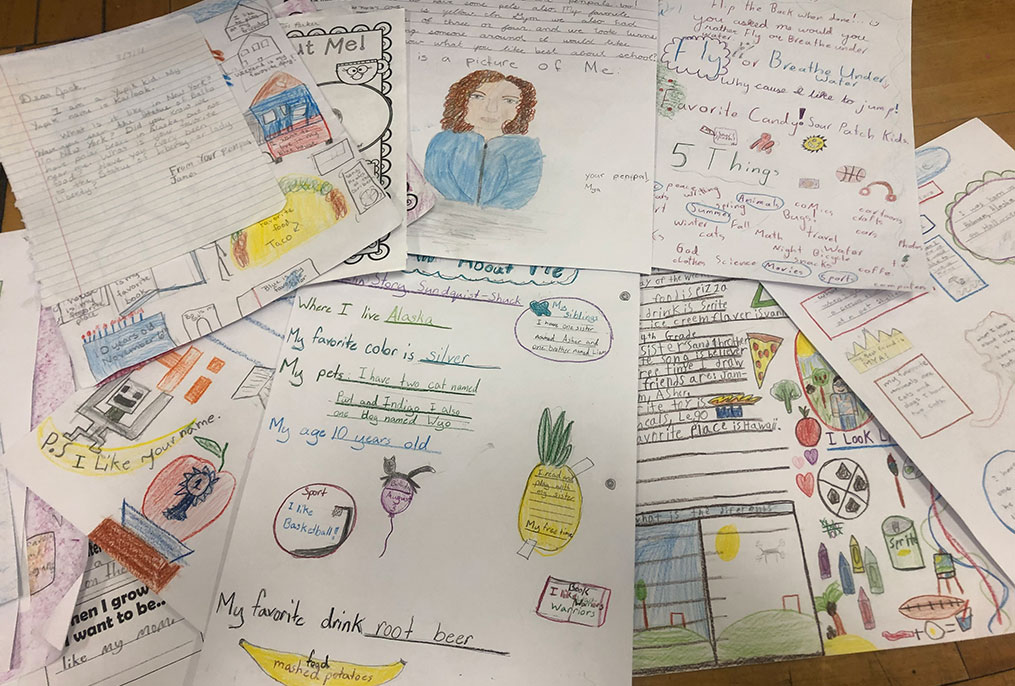 There's no doubt that during this worldwide pandemic, technology has been a superstar by keeping us all connected and attending work and school. Yet, fourth graders at Pashley Elementary School have decided to put the breaks on technology in lieu of handwriting for a recent pen pal project they have been working on with their classroom teachers and Physical Education teacher Kimberly Ferrie.
Students were learning about and trying their hand at Iditarod Racing (Mush! Mush!) in PE class when Ferrie discovered that an elementary school in Wasilla, Alaska is located right near the start of the famous Iditarod Race that takes place every March.
As a result, Ferrie and the fourth grade teachers decided to collaborate their classroom lessons by restoring the age old practice of pen pals writing. (For those too young to know, a pen pal is a person you come to know by frequent, friendly handwritten correspondences.)
"There's something so special about receiving a personal handwritten letter or card in the mail," says Ferrie. "Kids today don't really have too much experience with that lost art form or about connecting with others without the use of technology. They get emails or other digital communications immediately, but there's something to be said for the anticipation of expecting a letter in the mail and the element of surprise when it arrives."
A few weeks ago fourth-grade students in Mrs. O'Rourke's and Muscanelli's classes relied on their writing skills to create pen pal letters, some in cursive handwriting, and then mailed them to Alaska. Today, students in Mrs. Muscanelli/Pangburn's class received their first pen pal letters via postal mail from Alaska. And the excitement among the students was palpable.
Clutching a colorful letter from his Alaskan pen pal, Dylan Cusano (below) said: "The best part of having a pen pal is getting to know someone who you've never met or even seen before."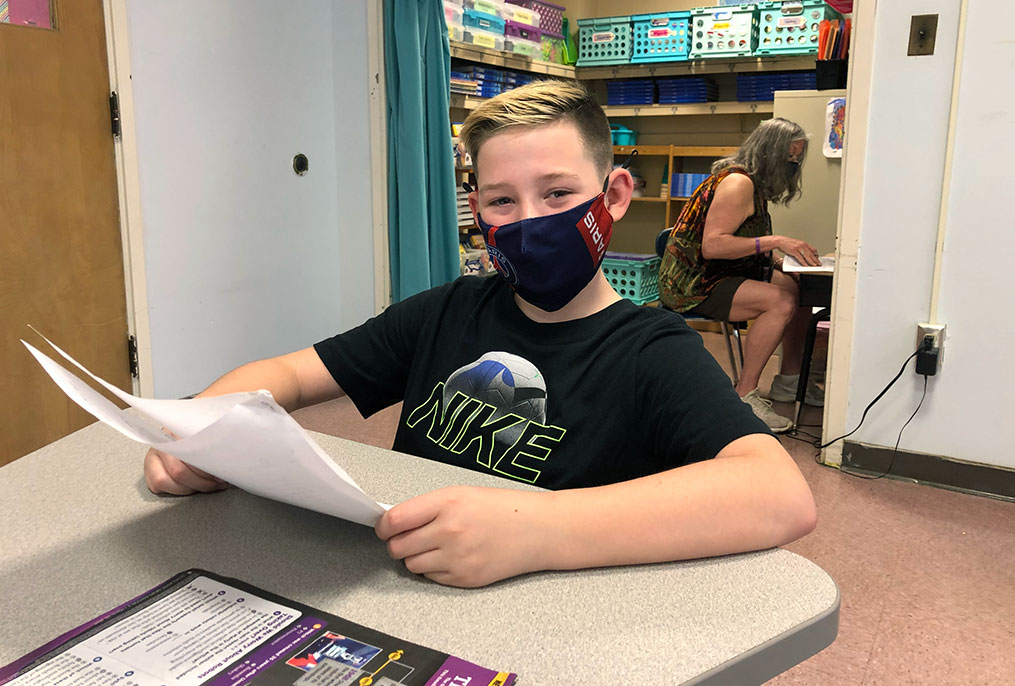 Amelia Peconie said "I really enjoyed writing to my pen pal and I can't wait to see if she answered my questions. I'm already thinking about what I want to write in my next letter!"
After the students read their letters to themselves, Mrs. Muscanelli asked a
few students to read theirs aloud. They then had a discussion about how their pen pals live thousands of miles away in a state with very different geography and climates from New York, but yet they share some of the same interests–pets, siblings, school, favorite foods, favorite games.
"That's my favorite part about having a pen pal," says Luciano Carnevale . "I think it's really fun to learn about what people from Alaska are like and what they do there."
Students in Mrs. O'Rourke's class felt the same way. "The students were thrilled when the box of letters showed up and they've been sharing with each other everything they've learned about their new friends," says Mrs. O'Rourke. "They were particularly impressed by all the questions their pen pals asked about life in upstate New York."
Next up for Pashley fourth graders is a response letter and handmade bookmarks for their Alaskan pals. And, while the teachers and students may have brought  pen pal writing back to life, Mrs. Muscanelli and O'Rourke both said they are looking into arranging a Google Meet with the students' pen pals so they can all meet face-to-face…well, digitally anyway.