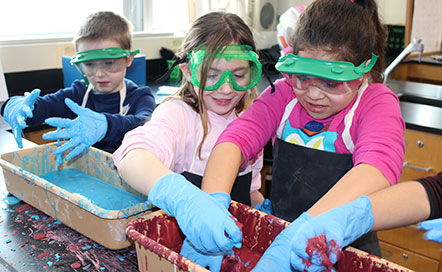 Fourth-grade students get "slimed" during the high school's annual Science Demo Day
Gooey slime, glow-in-the-dark bubbles, DIY Lava Lamps, and Boo Bubbles were just a few of the experiments fourth grade students were introduced to last week during the high school's annual Science Demo Day.
Students from all three elementary schools visited the high school's science labs and classrooms where they worked with high school students and became engrossed in the many science and technology demonstrations and experiments. The fourth graders put their own science skills to work by making observations, performing experiments, and recording their findings in their science notebooks.
The stations ranged from phase change experiments with dry ice (Boo Bubbles) to polymer and molecular investigations with fluffy slime and Oobleck (gooey slime). There were also demonstrations centered around engineering robots and manipulating computer-integrated kinetic sand tables, to name a few.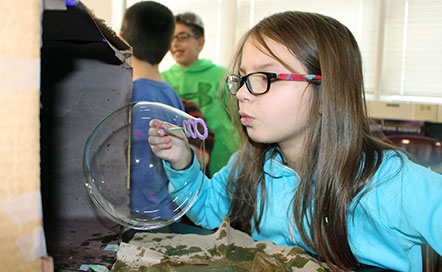 All of the experiments were "taught" by students who are in Science Honor Society, Science Club, or on the BH-BL Robotics team. They worked in peer groups to research and develop age-appropriate experiments. The students volunteered during Regents week to participate in Science Demo Day, which is a program loved by both the high school and the elementary students.
"Science Demo Day is about introducing young students to the wonders and fun of science education by giving them a chance to perform some fascinating and exciting hands-on experiments in higher-level science labs and classrooms" explain K-12 Science & Technology Education Department Head David Collins. "You know you've successfully tapped into kids' science-loving side when you hear from the elementary teachers that their students continued to talk about the science experiments for the rest of the day and even asked if they could do more experiments–it's a great feeling to be able to show kids that learning can be fun."
More photos of Science Demo Day are on the district's Facebook page.
Upcoming Elementary Science Fairs
Elementary STEM/Science Nights will be held in the spring. Keep an eye out for information coming home with your child. In the meantime save these dates:
Charlton Heights STEM/Science Night, March 21
Pashley STEM/Science Night, March 13
Stevens STEM/Science Night, April 11