BH-BL community comes together to fill high school's Prom Closet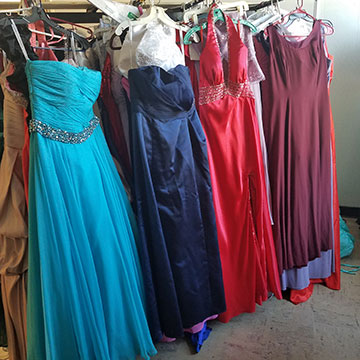 Every year hundreds of BH-BL High School students get decked out in formal attire to attend prom. Every year there are also students who are unable to attend prom because of the associated costs. But thanks to the Prom Closet program students can now "shop" for gently used prom attire and accessories.
"There is absolutely no way to truly explain how happy I feel being a part of this program," says Kate Jones, one of the Prom Closet program founders and high school teacher. "I am so excited to watch the girls enter the room where the gowns are housed, and then watch their faces light up with pure happiness when they see all of the gown options before they finally 'say yes to the dress.'"
The idea for a Prom Closet, which is in its second year, began last school year when BH-BL High School Family & Consumer Science (FACS) teachers Kate Jones, Sarah Weed, and Danielle Manning overheard a few students excitedly talking about prom. The conversation then turned to worries about the cost of prom. After talking with their students, the teachers decided then and there that they had to do something to help. They began organizing a Prom Closet where a selection of gently used gowns, shoes, and accessories would be available to students to help make attending prom more affordable.
When Prom Closet was first introduced to students there was some trepidation. "The idea of wearing a hand-me-down dress was a little difficult for some girls to wrap their head around," explains Jones. "But once they saw that the donated gowns were in such excellent condition there was no turning back."
Everything in the Prom Closet is free to shoppers. And this year, for the first time, the closet includes nearly 75 brand-new gowns donated by Marylu Aragosa of Ferri Formals in Schenectady. (Thanks to Pashley Elementary School teacher Kelly O'Rourke for her outreach efforts.) Also new this year are free tutorials and demonstrations for students from professional make-up artists and hair stylists, and there are also anonymous donors who purchased prom tickets and gift cards to salons and formal stores for students.
"What started out as one rack of gently used gowns has grown, in just one year, to a six-rack closet filled with new and gently used gowns, shoes, hair accessories, purses, jewelry, and more. It's more like a boutique," adds Jones.
Thanks to Ferri Formals and community member donations, the Prom Closet is bursting with nearly 200 gowns ranging in a variety of styles, colors, and sizes.
"It's really incredible to see how this community comes together to help each other and it's rewarding to be a part of it," adds Manning.
Jones adds that many of the students who wore a dress from the Prom Closet last year have donated it back to the program in an effort to help others and to show their appreciation. "It's such a great way for students to give back to a program that has helped them," says Jones.
The teachers are hoping to expand the Prom Closet offerings to include items for young men, too. Donations for the BH-BL Prom Closet are generally accepted in last winter. To make a donation, please contact any of the three organizers: Kate Jones at kjones@bhbl.org, Sarah Weed at sweed@bhbl.org or Danielle Manning at dmanning@bhbl.org.