BH-BL named among "Best Communities for Music Education" fifth year in a row
For the fifth year in a row, Burnt Hills-Ballston Lake is one of 527 school districts across the nation that is being recognized by The National Association of Music Merchants (NAMM) Foundation for their outstanding music education program. In cooperation with researchers at The Music Research Institute at the University of Kansas, and based on survey results, The NAMM Foundation each year selects school districts to be recognized as being among the Best Communities for Music Education.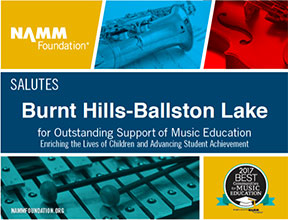 The awards program recognizes outstanding efforts by teachers, administrators, parents, students and community leaders who have made music education part of the curriculum. Designations are made to districts and schools that demonstrate an exceptionally high commitment and access to music education. These districts and schools set the bar in offering students access to comprehensive music education.
The designation takes on added significance this year with new research showing strong ties between K-12 school students who actively participate in school music education programs and overall student success. A recent study of students in the Chicago Public Schools by brain researchers at Northwestern University, detailed in Neuroscientist and Education Week, builds on previous findings that participation in music education programs helps improves brain function, discipline and language development.
"Studying music has intrinsic benefits and, on its own, is core to learning.  Also, the links between student success and music education have now been demonstrated by brain researchers in multiple studies," said Mary Luehrsen, Executive Director of The NAMM Foundation. "The schools and districts our foundation recognizes are building on that connection between music and academics. These schools and districts are models for other educators who see music as a key ingredient in a well-rounded curriculum that makes music available to all children, regardless of zip code."