BH-BL Science Research students earn awards at Science & Engineering Fair
See their work at annual Science Symposium, April 27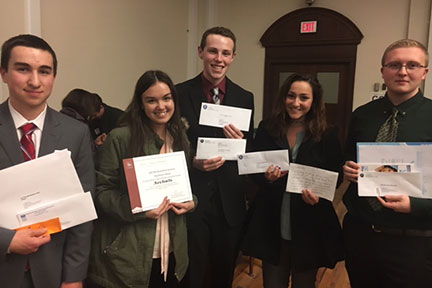 This past Saturday, BH-BL High School Science Research students competed at the 2017 Greater Capital Region Science and Engineering Fair where more than 100 Senior Division projects were presented, thus making the competition quite stiff, explains Science Research teacher Regina Reals.
Congratulations to the students who were recognized with the following awards:
Eva Scott (senior): Her project entitled "Investigating the Reliability of RunScribe Metrics to perform Gait Analyses and Shoe Compatibility" earned the Brown League Sports Science Award which is presented to the best project that uses a scientific approach to improve sports performance.
Evan Karl (senior): His project entitled "A Real-Time Tire Temperature Monitoring System for Race cars" earned the Brown League Sports Science Award (this award is typically only given to one project per year, but both projects were rated so highly, the judges presented the award to two students) and the Yale Science and Engineering Association award for the most outstanding student exhibiting a project in the area of Comp Science, Engineering, Physics or Chemistry.
Karolyn Bedore (junior): Her project entitled "Inflammatory Compounds" earned the Albany Molecular Award for top prize exhibiting entrepreneurial spirit and innovation and the Society for In Vitro Biology award for the most outstanding student exhibiting in areas of plant, animal, or in vitro biology or tissue.
Morgan LaMere (senior): His project entitled "Management Techniques in Adirondack Lakes" earned the Stockholm Junior Water Prize for the best projects related to water quality, resource management, protection, treatment or waste water treatment.
Jonathan Sinopoli (junior): His project entitled "Immediate and Transient Alteration in Brain Function Induced Firearm Recoil" earned an award from the US Metric Association for a project which involves significant amount of quantitative measurement and which best uses the SA metric system for those measurements. Jon also took home the Third Honorable Mention award and will compete at the State Science Congress (Buffalo, NY) in June.
Mary Hamilla (junior): Her project entitled "Analysis of T7 RNA Polymerase on Different DNA Plasmids" earned the Albany College of Pharmacy and Health Sciences Biomedical Excellence Award which is a $20,000 scholarship for the individuals who demonstrate outstanding achievement in the area of Biomedical Sciences.
Annual Science Symposium
Learn more and personally congratulate the students at the annual Science Symposium on Thursday, April 27 at 7 p.m. in the HS Café where the students will present their Research Science projects. Additionally, BH-BL Science Research alum, Zachary Wood, will be the keynote speaker.