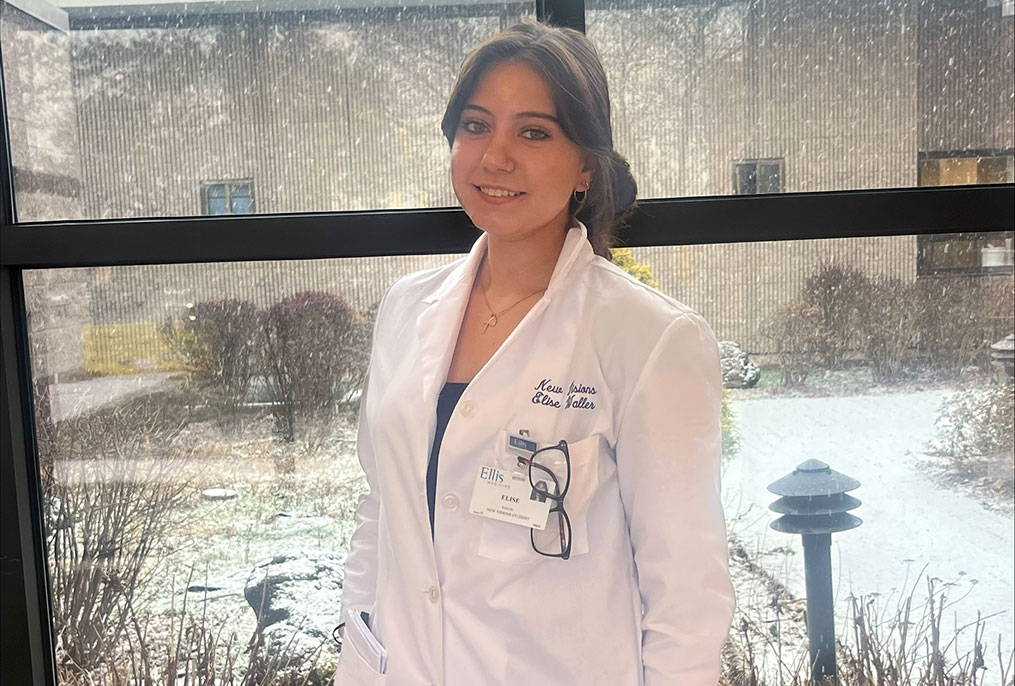 A Burnt Hills-Ballston Lake High School senior is building a bright future in the world of medicine thanks to Capital Region BOCES.
Elise Waller, BH-BL senior, is enrolled in the New Visions: Health Careers program at Ellis Hospital, where she is learning all aspects of the healthcare industry. As a high school junior, she earned a nurse assistant (previously known as certified nurse assistant/CNA) certification through the Two-Year Sequence of Health Careers program offered on the Career & Technical Education Center – Albany Campus.
"I got my CNA card last year through BOCES and I decided I wanted a challenging program for my senior year that, frankly, will look good to colleges and help me better prepare for a career in medicine," said Waller.
The aspiring labor and delivery physician is one of 26 students enrolled in the New Visions: Health Careers program. Offered at Ellis and St. Peter's hospitals, the honors-level program prepares high school seniors for more than two-dozen hospital careers and immerses them in a thought-provoking and challenging curriculum designed to build their knowledge of the human body and medicine.
In the program, students learn through traditional methods (lecture, reading, research, writing and focused study), group discussions, internships and rotations.
Students also take part in approximately 30 rotations in the hospital in departments ranging from surgery to outpatient care and even facility operations. In the past, students have witnessed and taken part in everything from C-sections and hysterectomies to stroke patient care and emergency room operations.
"The rounds here expose you to so much and what we do is appropriate to all aspects of healthcare, not just elder care,"  Waller said.
Waller said she learned about the medical industry at a young age, watching and eventually helping her grandmother manage a medical practice. She wants to go into a labor and delivery practice thanks to a friend's mother.
"My friend's mother tells me some amazing stories that I just find interesting," she said.
The BH-BL teen said she appreciates the challenge of the program and her teacher, Ken Bevan.
"We challenge each other and have great discussions about our research and Mr Bevan makes the program seem less daunting than it really is," Waller said.
For more information on the New Visions: Health Careers program offered by Capital Region BOCES, visit https://www.capitalregionboces.org/career-technical-education/courses-programs/new-visions-health-careers/.