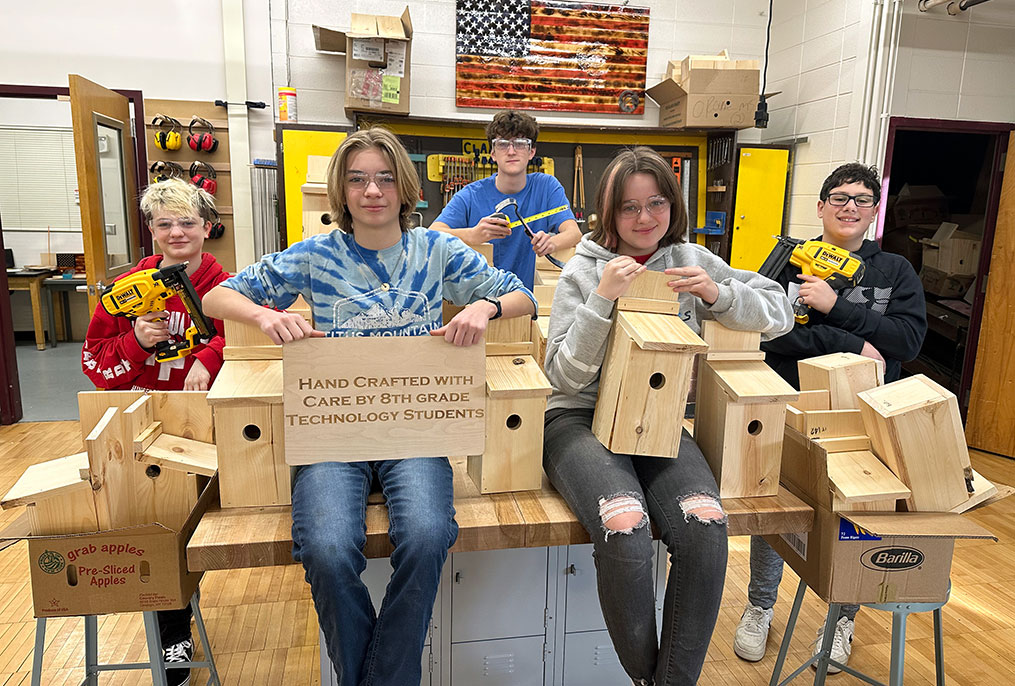 If you were worried about the housing market for nature's fine-feathered friends, you can stop. Thanks to O'Rourke Middle School eighth graders in Nick Morocco's technology class, there are now 301 new and vacant wooden bird houses that will be donated to Saratoga County's Birdhouse Program.
This year, the program's directors sought out area schools for help with birdhouse construction and meeting their goal of distributing 1,000 birdhouses. Through this program, birdhouses are supplied free to leadership organizations (i.e., Scouts, 4-H, etc.), senior centers, schools or programs for special needs individuals, etc. to encourage engagement, creativity, and a connection to the community by decorating birdhouses for use throughout the community.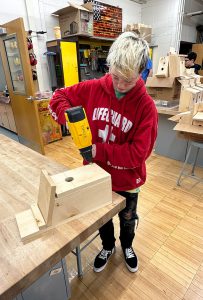 Each year at BH-BL during the Engineering & Designing Structures unit in Morocco's class, the 120+ students decide on what structure(s) they will create and how to connect it to the community. Some past projects have included picnic tables for the schools and a bus stop shelter at O'Rourke. Morocco, an animal lover, also has collaborated on projects with pet-based organizations such as Pet Connection, local animal shelters, area farms, etc. to build structures they need.
"This particular unit is a great way to get kids involved in community service projects while also learning about building structures," says Morocco. "This all started with a couple of dog houses and has evolved over time to include other animal structures such as rabbit hutches, chicken coops, bat houses, eagle/osprey platforms and more. But the students are always conscious of making sure the project is also community based."
The birdhouse project, like the others, first began with researching what the structures will look like and what materials and supplies will be needed. As in the past, Curtis Lumber donated all the lumber and materials. The next step, explains Morocco, is to get the students to design the blueprint, or pattern, for the structure.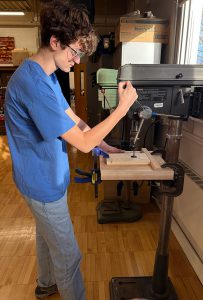 "Things were a little different this year given the amount of birdhouses the kids needed to construct," adds Morocco. "But, that in itself was a great lesson for the students to learn about mass production and the responsibilities that come with manufacturing projects."
O'Rourke students Efrayim Frankewich and Blaise Boyea explained that they spent one whole class at the Miter saw cutting pieces of wood for the back of the bird house, then passing them to peers at the next table who affixed the back to the sides before shifting it to another station for the front and roof. "It was, in a way, similar to an assembly line," says Efrayim. "We had to learn how to work at the same pace as the other stations so we didn't over produce and create a jam at any station."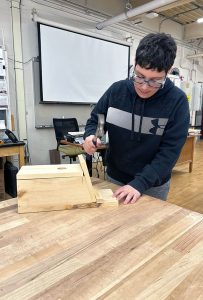 Another difference this year was the need for quality control. "Because we were building so many birdhouses in a limited timeframe we had to assess each house and make sure that the finished products were properly assembled and safe," adds Morocco.
Student Ryan Cavaliere, who dubbed himself the Quality Control Inspector, says: "My team and I did find a few houses that needed a couple extra taps with a hammer to ensure the nails and staples were deeper into the wood, but all in all, we had a nicely running assembly line and produced quality houses."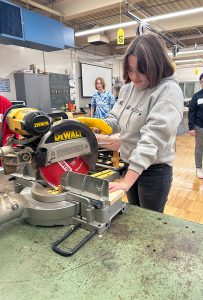 The students were excited to be a part of such a wide-reaching project, explains Morocco, but they wanted to know if they'd ever see their hard work in use like former students get to experience with the larger structures they built.
That question gave Morocco an idea! Using metal letter imprints, he had the students stamp "BH-BL" on the bottom of the 301 bird houses they built. Now, when the houses have been decorated and hung up around Saratoga County students can simply look at the base of them to see if it's one they had a hand in building.