CHES wins award at OM tournament
On Saturday, March 2,  six BH-BL teams competed at the regional competition, and four teams  them are advancing to the State Finals in Binghamton, NY on March 23. Good luck to the Charlton Heights (Problem 3, division 1), Stevens (also Problem 3, division 1), O'Rourke (Problem 1, division 2), and high school (Problem 5, division 3) teams.
Also on Saturday, the Charlton Heights Elementary School team won the Ranatra Fusca Creativity Award at the Odyssey of the Mind tournament. Congratulations to team members Lucy Capo, Arden Heiner, Emme Fischer, Stella Kibler, Gabi Tatro, and Caroline Welsh ( and coaches Kodi Kibler and Sara Welsh).  This is the highest award in Odyssey of the Mind, and it represents the essence of the program. The award is given to teams who exhibit exceptional creativity.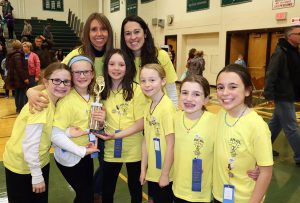 "The judges stated that the team showed creativity in their exceptional script writing and humor," says OM coach Kodi Kibler. "The team also had original songs throughout the performance and the acting was amazing. One judge said 'Best performance I've seen in 10 years!'"
The 5th Grade Odyssey of the Mind  that is moving to states includes students Brady Scianna, Bryce Cote, Julia Guyer, Elizabeth Guyer, Luca Jerry and Morgan McKenna with their coache John Guyer.  
Congratulations and good luck at the state finals!