MS Embraces Innovative Ways to Build Character
Personal Development Day Focuses on Kids
This school year, O'Rourke Middle School staff have been embracing innovative ways to help students build character through the school's new multi-year Character Education Program. The program allows school leaders to incorporate 24 different character-building traits into schoolwide events, programs, daily instruction, and activities that are all based on positive psychology.
"We want kids to feel good, to challenge themselves, and to know that nothing is unattainable," explains O'Rourke Middle School Principal Colleen Wolff. "This program help us strengthen this message in non-traditional ways while also bringing the entire school community together."
One such innovative activity was the school's recent Personal Development Day (during a half day earlier this month) where students were instructed to shelve their books and put away their schoolwork in favor of other activities that were centered around them and focused on personal development, community connections, learning a new skill, team building, and stress relief.
"The day was about letting kids be kids," said Lindsay Armbruster, a middle school health teacher and one of the co-chairs of Personal Development Day. "Today's kids have packed schedules with lots of external demands, stressors, and distractions, so we wanted to give back to them and encourage them to focus on themselves."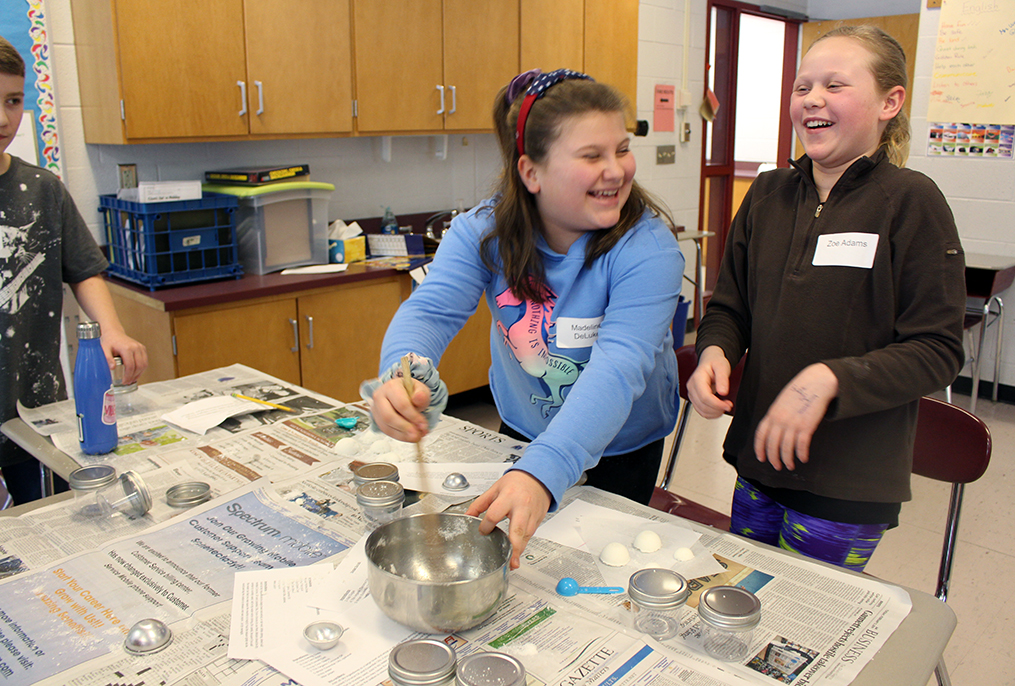 The students were asked to participate in either one 90-minute or two 45-minutes workshops led by faculty, staff, community members, PTA members, and even Superintendent Dr. McGrath. Students could choose from more than four dozens different activities, such as Salsa dancing, yoga, woodshop creations, ukulele jamming, make-your-own stress balls, painting kindness rock, sports, photography, an Escape Room, Sim City Lego Challenge, arm knitting (first photo), snowshoeing and cross-country skiing, DIY Valentine's, make-your-own bath bombs (photo above), Improv, and the list goes on and on.
"There were so many workshops I wanted to take," said Jordan Butcher, a middle school student who was making a stress-relief ball in a classroom that smelled like lavender essential oils and had soothing music playing through a portable speaker. "I've never done anything like this and it seemed really fun. I hope we can use this in class or during a test," she added while holding up the stress-relief ball.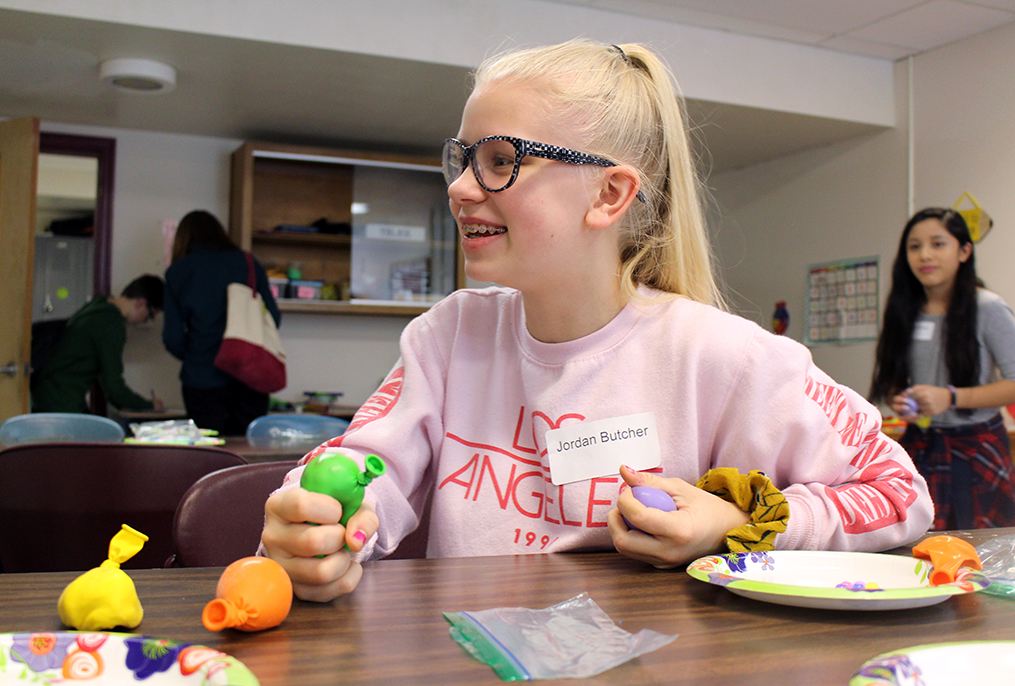 Mental health experts explain that supporting a child's social-emotional skills is just as important as their academic growth. These levels need to be aligned in order for kids to fully achieve and succeed.
"Personal Development Day is how we demonstrated to kids that's it's ok to step away from a traditional school day for a little while to take care of your inner self," says Wolff. "And it was an incredibly successful and rewarding day," she adds. "It's wonderful to see kids connecting with students from other grades, with their teachers, and with adults from the community all while discovering something new within each of them."
The students were also treated to a powerful presentation about personal triumphs by youth motivational speaker Brandon Lee White.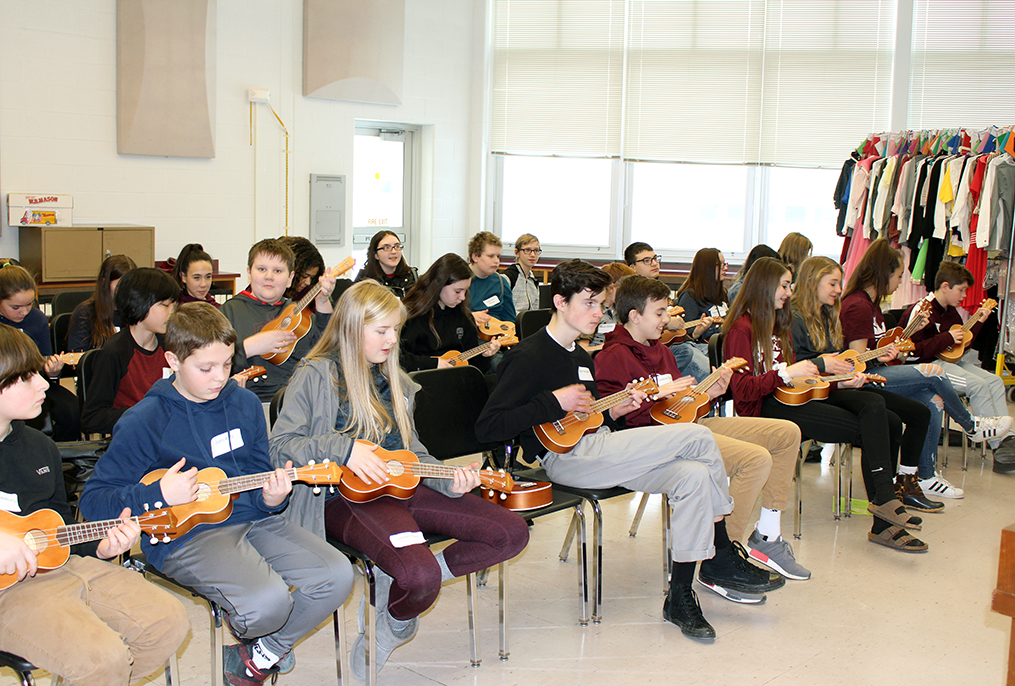 Personal Development Day Workshop Options
Animation
Arm Knitting
Badminton Singles Tournament
Book Swap Suggestions
Character Ed Building Board Project
Circuit Workout
Coloring for Relaxation
Communication through Drawing
Create the Ultimate Spa Day
Creativity in the Kitchen
Cross-Country Skiing & Snowshoeing
DEAR (Drop Everything And Read)
Dear Role Model
DIY Valentines
Easy Dinner for you Family
Escape Room
Games
Hand Lettering
Hello, Future Me
Helping Hands
How to Solve Sudoku
HS Spartan Peer Alliance
Hygiene Kits for the Homeless
Improv
Kindness Rocks
Leadership from Where You Are
7 Habits of Highly Effective Teens
Make Your Own Stress Ball
Math Manipulated
Mental Health & Wellness 101
Mindset Mastery
Minute to Win It
Name that Tune
Paint & Sip Smoothies
Picture Book Share
Pigs, Chickens & Pancakes: Home Grown vs Mass Production
Portrait Photography
Public Speaking
Salsa Dancing
Samuel Meredith: Historical Storytelling
Sim City Lego Challenge
Ukulele Jam
What's in YOUR bag?
Woodshop Creations
Word Games
Yoga
Yoga Nidra with Sankalpa