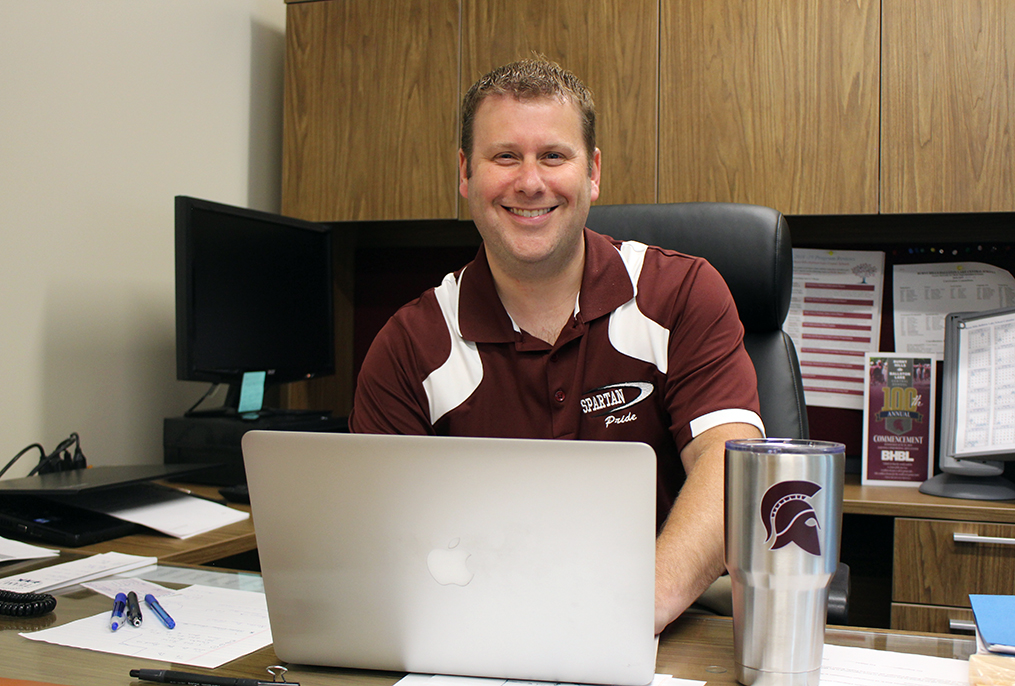 As the 2018-19 school year wrapped up and the Board of Education recognized and thanked nearly two dozen retirees, the board also unanimously approved the appointment of David Collins as the next BH-BL Assistant Superintendent for Curriculum and Instruction. Collins replaces long time educator and administrator Dr. Maryellen Symer who retired at the end of June.
More than 45 applicants' resumes were reviewed and evaluated by a hiring committee made up of staff, students, board members, and administrators. From there 10 candidates were interviewed by the committee. Two candidates were brought forward for a final interview and a recommendation to hire Collins was brought to the Board of Education.
"Dave has a strong background as a classroom teacher, a principal, and a K-12 department leader," says Superintendent Dr. Patrick McGrath. "These diverse roles have him well prepared to take on the challenges of this new role. I am confident that Dave's leadership and expertise will have a great impact on BH-BL."
Collins joined BH-BL in 2015 as the district's K-12 Science & Technology Education Department Head where he played an instrumental role in getting the high school's new STEAM (Science, Technology, Engineering, Arts and Math) addition up and running by facilitating the design and evolution of the space and equipment to model modern-day laboratories and work spaces.
For the past four years he's worked closely with staff to innovate and launch new courses, programs, and opportunities for all students, including the 6th Grade Exploratory Robotics Program, K-5 STEM Nights at the elementary schools, and the High School Science Demo Day, where fourth graders from all three elementary schools visit the high school's science labs and work with National Science Honor Society students performing hands-on experiments. This program, among others, was designed to show younger kids the value and fun that can be found through science. Collins has also woven the elementary, middle, and high schools' robotics offerings together to create a more robust program that can be carried seamlessly from one school to the next.
Furthermore, Collins has been guiding the K-12 Science Committee through an extensive review of the new NYS Science Standards that will be fully implemented in 2020. This includes researching new science resources and aligning BH-BL's curriculum and professional development opportunities to complement the new standards.
As the new assistant superintendent, Collins' role will be expanded to ensure curriculum in all subject areas is properly aligned and includes innovative opportunities for students. Collins has already begun researching ways to broaden and expand the district's career and technical academic program to offer opportunities that are more closely aligned with industry standards and which offers students a more focused connection to post-graduation possibilities. Collins also plans to expand BH-BL+1 by continuing to cultivate relationships with higher education institutions to bring even more College in High School opportunities to BH-BL. He also plans to carve out time to review BH-BL's current programs and practices to see where even more opportunities or offerings can be integrated, such as student support services, mental health awareness, etc.
"My goal in this new role is to find a balance between maintaining the excellent traditions and upholding the strong educational foundation already established at BH-BL while bringing innovative ideas, programs, and opportunities to the forefront and weaving it all together to deliver our students a high quality 21st-century education," says Collins who moved into the new role on July 1. "I am excited to be starting the next phase of my career at BH-BL and honored to work alongside such talented and dedicated colleagues, while serving an amazing student body and supportive school community."
Collins says he remains committed to staff and students as well as to improving teaching and learning at BH-BL, and therefore people will continue to see him in the hallways, classrooms, and at special events.
"I pursued a career in education because I enjoy connecting with people and helping them realize their potential. It is rewarding when students see the value in what they are learning and accomplish things beyond what they thought possible," says Collins. He adds: "I plan to use that as my guiding principle when helping to make decisions about the future of BH-BL."
Prior to joining BH-BL Collins was the Principal of Mohonasen High School where he also began his career as a biology teacher.
Collins and his wife, Kerri, live in Saratoga Springs with their two children, Lily (12) and David (10) and dog (Buster). When he and his wife are not watching Lily and David compete in various sports and activities, they enjoy spending time as a family at home or at their camp on Sacandaga Lake.
"Having the love and support of my family makes this exciting transition even more meaningful," adds Collins.
Collins can be reached at dcollins@bhbl.org or at 518-3999141, ext. 85015.