Welcome! Our K-12 School Counseling webpages are dedicated to providing students (and their parents) with the counseling and social-emotional resources and connections they need to succeed in school and beyond.  Each BH-BL school has certified, trained, and experienced staff dedicated to connecting with students and nurturing their needs. See the more information navigation bar (below right) to contact a counselor.
"As a School Counselor, ​our ​primary responsibility is to advocate for all students and promote their academic and social/emotional development. School-based counseling allows​ us​ to work collaboratively with students, parents, teachers, administrators, and our school community," says Director of Counseling & Social-Emotional Learning Jill Bonacio.
---
What is the role of a school counselor?
Elementary School: The work of elementary school counselors aligns with the school's mission to support all students' academic achievement as they prepare for the ever changing world of the 21st century. This alignment is accomplished through the design, development, implementation and evaluation of a school counseling program.  [Read more about the role of an elementary school counselor]
Middle School: At O'Rourke Middle School, the school counselor focuses on helping students balance the demands of school, family and friends. Special attention is paid to teaching "life skills" such as organization, study skills, time management, responsibility, cooperation, teamwork and other habits and attitudes that will serve students well in any classroom, job or social situation. Counselors are available as resources to parents and caregivers as students navigate their way through the middle years of their education. [Read more about the role of a middle school counselor.]
High School: High school students need advisement in making concrete and compounded decisions. They must navigate academic, peer and parental pressures as they face high-stakes testing, the challenges of college admissions, the scholarship and financial aid application process and entrance into a competitive job market. [Read more about the role of a high school counselor.]
---
Social-Emotional Learning (SEL)
Why SEL?
According to the Collaborative for Academic, Social and Emotional Learning (CASEL), the world's leading organization promoting integrated ac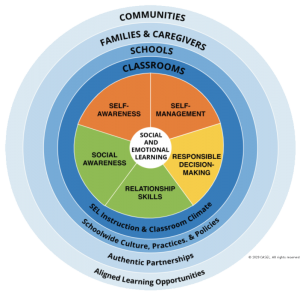 ademic, social and emotional learning for all children in schools, social and emotional learning (SEL) is the process through which all young people and adults acquire and apply the knowledge, skills, and attitudes related to 5 key areas:
Self Awareness: Developing healthy identities,
Self Management: Managing emotions and achieve personal and collective goals,
Social Awareness: Feeling and show empathy for others,
Relationship Skills: Establishing and maintaining supportive relationships,
Responsible Decision Making: Making responsible and caring decisions.
Why is SEL so important?
SEL helps children by promoting their health and well-being and contributing to the prevention of violence, truancy, bullying, and drug and alcohol abuse. In addition, SEL is associated with significant gains on academic achievement tests as well as decreased anxiety and behavior problems.
SEL and Community
According to CASEL, SEL is most beneficial when it is integrated throughout the school culture and includes collaboration with families and caregivers.
CASEL Research
In July 2017, a meta-analysis based on a 2011 CASEL report was published in the journal, Child Development. The analysis reports that when schools implement SEL programs with fidelity, they may see a long-term positive impact in their school. Most notably:
Benefits were similar regardless of students' race, socioeconomic background, or school location
Students' academic performance 3.5 years later is higher by 13 percentile points compared to non-SEL peers
More positive social behaviors, fewer conduct problems, and lower drug use
The overall findings from this review suggest there is tangible value in implementing SEL programming for students and their community.
CASEL Video: SEL for Parents English Version | Spanish Version
---
High School Counseling, College & Career Information
Information about high school counseling, career exploration program, college & career informational links, and much more can be found directly the BH-BL High School Counseling webpage.
Psychologist: Rebecca Blais | 518-399-9141, Ext. 83311
Social Workers:
---
O'Rourke Middle School Counseling Services
For information about O'Rourke Middle School counsel and staff contacts, please visit the OMS Counseling Center webpage. Additionally, all counselors can be reached by calling Michelle Turnbull at 518-399-9141, Ext. 84040.
Social Workers: Devan White | Ext. 84037 and Heidi Peterson | Ext. 84031
Psychologist: Jacqueline Somerville | Ext. 84039
---
Elementary School Counseling Contacts
Pashley Elementary School
Stevens Elementary School
Charlton Heights Elementary School
Elementary School Counseling Center Newsletter