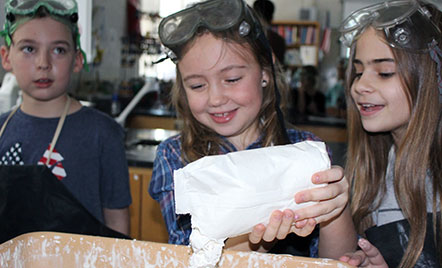 Grade 4 students perform science experiments at the high school's Science Demo Day
What do kids like more than making their own slime?
At BH-BL's annual Science Demo Day we learned that fourth graders also enjoy experimenting with glow-in-the-dark bubbles and lava beakers, popping smoke bubbles (dry ice), testing their catapult-making skills, and discovering robotics.
Science became super cool earlier this week when fourth graders from Stevens, Charlton Heights, and Pashley Elementary Schools visited the high school's science labs and classrooms where they worked with high school students and quickly became engrossed in the more than two dozen science and technology demonstrations. The fourth graders put their own science skills to work by making observations, performing experiments, and recording their findings in their science notebooks.
"The demos ranged from phase change experiments with dry ice to polymer and molecular investigations with 'Fluffy Slime' and Oobleck," explains Science and Technology Director David Collins. "There were also demos centered around engineering robots and mini catapults and manipulating computer-integrated sand tables, to name a few."
Nearly 120 BH-BL high school students from Science Club, Science Honor Society, Coding Club, and the Robotics Program worked in peer groups to research and develop age-appropriate science and technology experiments. The students volunteered during Regents week to participate in Science Demo Day, which is in its third year at BH-BL and will likely become a BH-BL tradition since it's clear the kids love it–both the high school and the elementary students.
"Demo Day allows young students to experience STEM education in a unique and fun way, explore our high school's science settings, and interact with student role models who show that focusing on academics is important, fun, and rewarding," adds Collins.
View more photos on the district's Facebook page in the photo album section.
Elementary STEM/Science Nights will be held in the spring. Keep an eye out for information coming home with your child. In the meantime save these dates:
Charlton Heights STEM/Science Night, March 21
Pashley STEM/Science Night, March 22
Stevens STEM/Science Night, April 12