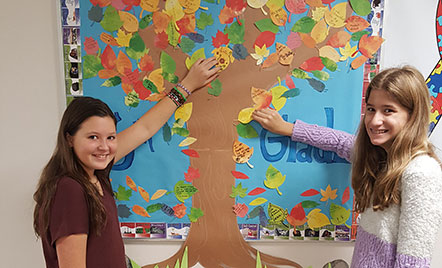 Gratitude Trees Support Kindness & Positivity As Part of "We Are O'Rourke" Initiative
O'Rourke Middle School students (and staff) believe they have much to be to be grateful for and want to share their gratitude. What better way to do this than with Gratitude Trees that display thankful messages. The trees are just one of the many initiatives the school has embarked upon this year through it's "We Are O'Rourke" character education campaign.
Throughout October and November students learned about and embraced gratitude, and also have been demonstrating it in various way, such as through the paper Gratitude Trees that were displayed on a wall in each grade hallway. The trees started out bare but over the past several weeks they've sprouted lots of leaves with messages of gratitude written on them.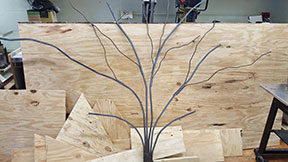 Principal Colleen Wolff explains that the Gratitude Trees have been so popular that they will be installing a permanent tree near the cafeteria for years to come. Technology teacher Nick Morocco is in the process of making the tree from metal. The finished product will allow students to hang messages on it that correlate with the month's theme.
Sixth grade students Chloe Gilmore and Jana Johnson are two members of the KARE (Kindness And Respect for Everyone) Committee that plays a big role in helping carry out the supportive activities that are part of the "We are O'Rourke" campaign.
"I feel really proud to be a part of this group," says Gilmore. "I like being able to encourage my classmates to be involved in supporting the character trait of the month–it feels great to be a part of this huge initiative and gets me thinking about others in a way I didn't before."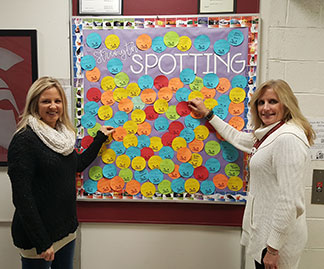 Guidance Counselor Nancy Hyde (along with a dozen other staff members) has been instrumental in getting this program off the ground. "It's such a great program that encourages everyone–staff and students–to weave in a bit of kindness everyday," says Hyde. "It helps all of us slow down for minute and think about others, give thanks, and show appreciation in simple, but impactful way."
In fact, along with the Gratitude Trees, students have been writing thank you letters to people within the school community as a way to express how much they appreciate that person. Additionally, on any given day a staff member or student's name along with his or her character strength might appear on a colorful "spot" that gets displayed on the "Strength Spotting Board."
Staff members can also nominate students who they feel have displayed exceptional character education traits and who are deserving of receiving a handwritten, personal postcard through the mail from staff.
"We want to teach students the importance of sharing positive, encouraging words about others," adds Hyde. "It only takes a moment to think about and recognize others and then, of course, act upon it. We've designed these creative outlets to help everyone express their emotions in a positive, nurturing way."
The Strength Spotting Board is across from the main office where you'll often find kids reading the spots, adding spots to it, and smiling.
As this month is winding down, Hyde is gearing up for the December and January activities that will support the next character trait–hope! Stay tuned for news about those activities.