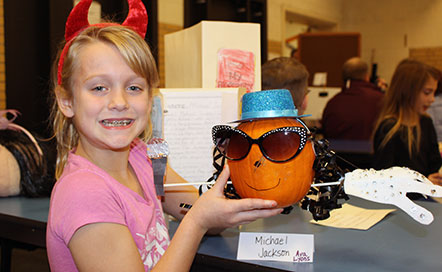 Pashley Students Turn Pumpkins into Famous People
Fourth-grade students in Ms. Muscanelli's and Robert's classes recently presented their Pumpkin Biography projects to families, staff and peers. The pumpkin creations were the culminating project in a month-long lesson where students learned how to research and write biographies. They were tasked with identifying a person from the past or present who influenced the world. The students were allowed to pick from authors, entertainers, athletes, historical figures, inventors, presidents, or other men and women of history.
Once they selected their famous person to research, the students got busy doing their research. They visited the library in search of reference books and also used their Chromebooks to go online to find out if anything had been written, such as a biography, about the person they selected.
After their research, they took their findings and their newly learned biography writing skills and wrote their own biography about the famous person they chose. The visual portion of the Pumpkin Biography project that accompanied the biographies were turning pumpkins into their famous person!
The results (both biographies and pumpkins) were astonishing!
Check out more photos on Facebook.