Join us in celebrating 100 years of excellence at BH-BL
Centennial celebration October 10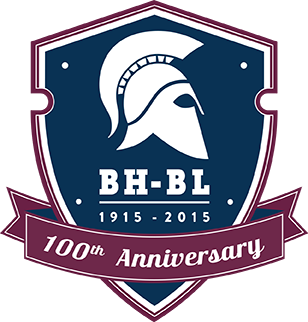 This school year marks the district's 100th year in existence. It all began when three one-room schoolhouses joined to form New York state's first "consolidated" school district–known then as the Burnt Hills-Ballston Lake Union Free School District.
In 1916, the district's first official school was built on Lakehill Road (the current Stevens Elementary School) and served students in grades 1-12.
Over the past 100 years, BH-BL has grown from a one-school district serving 314 students and graduating two students in its first year of existence to a five-school district serving more than 3,100 students with an average graduating class of 270 students.
It's quite an accomplishment to be able to celebrate 100 years of academic excellence and progression, and as such BH-BL has big plans!
Centennial Celebration Oct. 10
Join us on Saturday, Oct. 10 at BH-BL High School's multi-purpose athletic field for a day-long celebratory event in conjunction with Homecoming festivities. (There will be many more Centennial events held throughout the year.)
The Centennial Celebration kicks off at 11:30 a.m. Below is the detailed schedule:
10:30 a.m.  Walter Reid Gates at BH-BL High School, 88 Lakehill Road, Burnt Hills open. The first 100 people through the gates will receive a complimentary Centennial cinch bag from the BH-BL Business & Professional Association.
11 to 11:15 a.m. Burnt Hills Oratorio Society & Skidmore's a cappella group Drastic Measures will perform on the field.
11:30 a.m. Centennial Ceremony begins and includes the BH-BL High School Select Choir performing the National Anthem and the Alma Mater accompanied on the piano by 1949 graduate Beverly Stephenson Oudt. A ribbon-cutting ceremony will be held to officially name the new turf field and the new Centennial Field sign will be unveiled.
12:15 to 4 p.m. Homecoming festivities include the Class Club Fair with student-led food and Spartan memorabilia vending. The Centennial Book "100 Memories of BH-BL" will also be on sale for $25.
12:30 p.m. Student band "Hush" will perform near the high school's science wing.
1:30 to 2 p.m. BH-BL Senior Recognition Ceremony on Centennial Field.
2:25 p.m. A train whistle specially designed by a resident for the Centennial will be sounded as the BH-BL varsity football team takes the field and the Homecoming game begins.
2:30 to 5 p.m. Homecoming football game.
3 to 4:30 p.m. Spartan Catering Pre-Ordered BBQ Dinner pick-ups
6 to 7:30 p.m. Senior Night & Varsity field hockey game under the lights on Centennial Field. (The BH-BL Booster Club will be selling refreshments.)
7:30 p.m. Fireworks co-sponsored by Terry Morris Ford, Southern Saratoga Chamber of Commerce and the BH-BL BPA. Spectators should sit on the field bleachers to enjoy the fireworks.
8 p.m. Centennial musical performance in the high school auditorium. Returning alumni will perform songs from musicals performed at BH-BL throughout the decades.


Musical entertainment throughout the day
In the true spirit of Burnt Hills, we are featuring several live performances in addition to the High School Choir:
The BH Oratorio Society will perform works by Irving Berlin between 11 and 11:15 a.m. to represent the district's first quarter century.
Drastic Measures, Skidmore's a cappella group, will perform a contemporary piece between 11 and 11:15 a.m. to represent the district's most recent quarter century.
BH-BL student band "Hush" will perform at 12:30 p.m. near the high school's science wing.
Other Information
No Admission Fees: We want our community, returning alumni and retired staff to enjoy a day with us celebrating our 100th anniversary, therefore, all admission fees have been waived for Centennial Celebration events. If you would like, however, you may make a donation.
Parking & Shuttles: Please remember to use both the front (faculty) and back (student) parking lots at the high school. However, additional parking will be available at Stevens Elementary School (25 Lakehill Road) and O'Rourke Middle School (173 Lakehill road) with two shuttles running from both locations to the high school between the hours of 10:15 a.m. to 4:15 p.m. Simply park your vehicle and wait for the shuttle bus to arrive.
Hunger Games Food Drive: We kindly ask that in lieu of admission you bring a non-perishable food item for the districtwide food drive. Collected items are donated to local food pantries to help families in our community. Our goal is to collect 800 items. We appreciate your help.