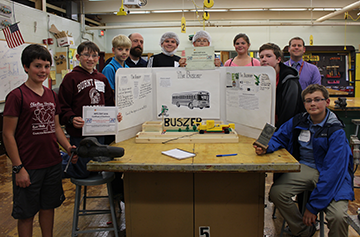 MS students win Sustainable Circuit Award at National Manufacturing Day for "The Buszer"
Last week eight middle school students and technology teacher Nick Morocco attended National Manufacturing Day at Global Foundries in Malta where they presented their Lego prototype at a competition against 11 other districts.
The students were challenged to manufacture a special design using at least one integrated circuit along with any one or more predetermined elements that include light, sound, movement, color, and alternative energy.
BH-BL students meet for three weeks to research and design their idea–The Buszer–which came from a real-life conundrum one student in the group was experiencing.
"Well, last year the bus would pass my house and turn around before stopping to pick me up," explains Jarrett Kuehner. "It was great because when I saw the bus go by my house, I knew it was time to go to the bus stop. This year that doesn't happen so I have no warning that the bus is coming. I liked having a signal letting me know the bus was coming. I don't want to miss the bus."
All of the students agreed a signal that the school bus was coming would be great. And that's how "The Buszer"–a bus alert system–came to fruition.
According to the students, sensors along a road would be connected to an alert system (think: light bulb) in students' houses that would activate when a bus rolled over them. The sensors would be placed several yards before the bus stop so that students had enough time to grab their school bags and get to the bus stop on time. The sensors would be connected to the alert system via electrical wires, which would be powered by energy through a wind turbine or through photosynthesis.
"So it's a bus buzzer or a Buszer," adds another student.
It should come as no surprise that this group's prototype earned them first place in the Sustainable Circuit category. These students thoroughly exercised the four Cs of 21st-century learning–Communication, Collaboration, Critical Thinking and Creativity. Way to go, Spartans.
Video created by O'Rourke Middle School student Ammon Smith.