BH-BL High School named NYS High Performing Reward School for fourth consecutive year
BH-BL High School is one of only two high schools in the capital region to receive prestigious recognition
New York State Education Commissioner MaryEllen Elia recently announced the state's 2016-17 Reward Schools, and Burnt Hills-Ballston Lake High School is once again recognized as high performing school.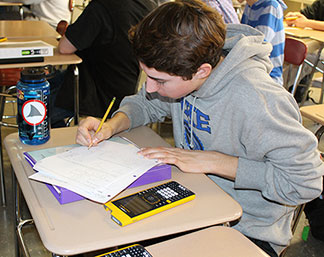 Out of more than 4,500 schools statewide only 220 schools were named 2016-17 Reward Schools, and only about 90 New York state high schools outside of New York City were honored with this recognition.
Burnt Hills-Ballston Lake High School was one of only two in the entire Capital Region (Niskayuna High School is the other) to be named a Reward School.
Additionally, BH-BL is among only 78 schools (of any level) in the state to be named a Reward School four years in a row. Most elementary and middle schools in the state were eliminated from Reward School consideration this year based upon high rates of students opting out of NYS exams.
Schools designated as Reward Schools for High Performance demonstrate a combination of high test scores and strong graduation rates, especially among students who had previously scored below proficient on state tests in elementary or middle school.
"The success of our high school students on these objective measures is a credit to the whole system–which includes our incredible faculty, staff, and administrators all the way from kindergarten through twelfth grade," says Superintendent Patrick McGrath. "This recognition is further proof that our school system remains strong and vibrant despite the turmoil at the state and national level."
How is a Reward School determined?
A combination of academic improvements and growth measurements over several years as well as graduation rates are used to determine Reward School status.
For example, to be identified as a Reward School, a school must:
Be among the top 20 percent of schools in the state for English language arts (ELA) and math performance in the 2013-14 and 2014-15 school years or be among the top 10 percent of schools in terms of gains in ELA and math performance in the 2014-15 school year.
Have made Adequate Yearly Progress for the 2013-14 and 2014-15 school years for all groups of students on all measures for which the school is accountable, including the requirement that 95 percent of all groups participate in the English language arts and mathematics assessments.
Not have unacceptably large gaps in student performance on an accountability measure between students who are members of an accountability group (e.g., low-income students) and students who are not members of that group.
Additionally, high schools must have graduation rates above 80 percent to be a high achieving school and above 60 percent to be a high progress school. Also the percentage of students in the school who graduate with a Regents diploma with advanced designation or a Career & Technical Endorsement (CTE) must exceed the state average. Furthermore, high schools must demonstrate that their graduation rate for students who entered the school performing below proficient in ELA or math exceeds the state average.
BH-BL has an average graduation rate of 95 percent with approximately 98 percent of students graduating with a Regents diploma, and among those, 57 percent earn an Advanced Regents diploma and 52 percent earn an Advanced Regents with BH-BL Merit seal diploma.
"It's elite recognitions such as this that remind us just how hard our staff work on a daily basis to encourage and support academic excellence among all of our students," adds High School Principal Tim Brunson. "Our students' academic growth throughout the years is a true testament to their own unwavering dedication and commitment to receiving a high-quality education. It is no wonder why there are so many generations of Spartans attending our schools–and I'm proud to be a part of this district. "